Creative thinking, but. Those maniacs who wear body armor into mass shootings are on a suicide-by-cop mission anyway. So, the death penalty will have no deterrent effect.

Just like automatic weapons themselves, the solution is to take body armor out of civilian hands, period.

It's politically impossible, but it's true. Maybe it won't be politically impossible in 20-30 years. In the meantime, many more children will die needlessly, and future generations of survivors scarred for life will curse ours for doing nothing.
Upvote because I like the message, but I am against the death penalty because I do not believe that any state is responsible enough to not abuse the power of death over its citizens.
It is already illegal for a felon to be in possession of body armor.
Ordinary citizens are legally allowed to purchase, possess, and wear body armor.
If you live in Chicago (or any other Democrat governed city)and you're not wearing body armor, you're crazier than a shithouse rat.
Uvalde, Texas is way out in the country. Mass shootings happen everywhere. This is an America problem, not a city problem. Duh.

Wearing body armor should be a regular feature of life in America, even for elementary schoolchildren? Nah.
Uvalde is a town.
I am talking about major US cities
And I wasn't advocating the use of armor vests for schoolchildren, Skeezeeks. Hyperbolic, much?
How about we try armoring up the entrance with armed security, like we do at courthouses and Federal Buildings for a start.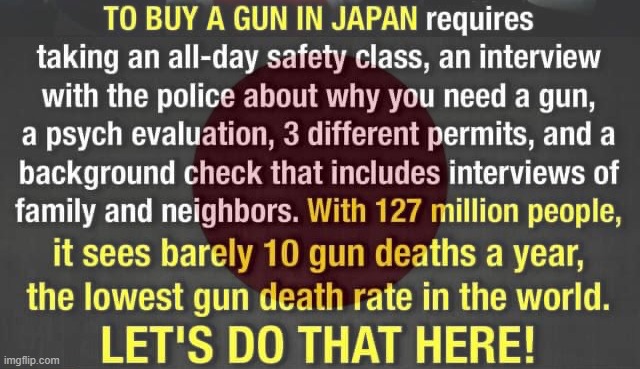 You've ruled out body armor for schoolchildren, but still implying that average American citizens ought to wear them in their everyday lives. I'm hard-pressed to think of any situation in which a civilian would need tactical body armor unless they are looking for trouble. Gangsters and indeed mass shooters like the Uvalde guy come to mind. Bad as the gun violence situation is, America is not a warzone. We can solve this problem if we want to.

And it's the simple, common-sense stuff. Impose rigorous background checks and licensure requirements on gun ownership, like they do in Japan where gun violence is practically nil. Their success shows us what a "well-regulated militia" would look like in practice. Multiple mass shootings across the country every week obviously isn't that.

Fortifying schools the way we'd fortify federal buildings is not realistic. There are far, far too many schools across the U.S:

"There are 130,930 public and private K-12 schools in the U.S., according to 2017-18 data from the National Center for Education Statistics (NCES)."

How many officers are you proposing to station at every school? Multiply whatever that number is by 130,930.
Nonsense
I just clarified the law.
Everything else you say is your opinion alone.
If you can't identify how we're going to hire a million-plus private security officers for schools, that's not a problem with my opinion, that's a problem with your solution.
We were talking about the legality of body armor.
Simple, stop sending our treasure to Ukraine and use it to pay for enhanced school security and guards
How many school shooters had been undergoing psychiatric care? And also double that up with recent red flag laws. I don't advocate for sending my children to a school that resembles a prison. I do feel like there's plenty of laws written already that are not being enforced. Stop worrying about the millions of Americans who are not the problem and start treating people with a mental illnesses, while shelving their right to own, possess, use or purchase a firearm. It wasn't too long ago that 900 million was allocated to NYC for mental health, not one penny of that money is accounted for, but the mayor and his wife are in the Hamptons of you'd like to ask them.
Red flag laws = "The Department of Precrime." It's mind-boggling this nonsense is being treated as either rational or effective.

Consider civil liberties. Feds snooping in on mental health appointments. Throwing darts at the wall to try to predict which patient is going to snap and go on a killing spree. Inevitably failing to do so, and then being hard-pressed to justify the creation of such a surveillance state in the first place.

By all means, we should increase funding and treatment for mental health, especially for young people. But injecting federal surveillance into that system is risky business and by no means a be-all, end-all solution.

America doesn't have a larger percentage deranged individuals than countries like Britain or Japan or Germany, we just have more guns. The problem is gun owners conceiving of themselves as a persecuted class rather than aiders and abettors of this death industry. Yes, even the "law-abiding" ones.

Politically incorrect to say that, but it's true. I'm done being politically correct and skirting around the issue. The problem is guns, period.
They're already spying on everyone and passing "precrime" laws. Passing ex post facto bills of attainder is not going to solve the problem by itself either. But to your point the above mentioned countries don't lack mental health care programs like America. Plus they have much more limited access to firearms. I don't think taking away people's rights every time some whack job exploits our system is a good idea. That's a sure way to end up in a dictatorship, especially when you consider the department of Justice lets lunatics walk the streets every day. They have all the leverage on a scared population in that regard.
We literally have Americans begging the government to take rights away, and you agree with that? Next step is your rights. You can bet on that.
NY just outlawed body armor. Not saying that the meme would be a good strategy to end mass shootings, but they are barking up the wrong tree. I felt comfortable putting a Kevlar panel in my backpack for my electric scooter ride through the unsafe areas on the way to work and home. That does not make me a threat to anyone. It's a federal offense to use pepper spray on the offensive, as well as any aerosol pesticide.
Good. I hope the cop shot him in his little snotty face.
Twice.
Show More Comments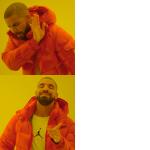 IMAGE DESCRIPTION:
Banning body armor for civilians after a mass murder; Making the use of body armor on an offensive attack an automatic death penalty, no appeals
hotkeys: D = random, W = upvote, S = downvote, A = back