Kind of a status update, maybe someone wondered what happened to me and went on my profile to check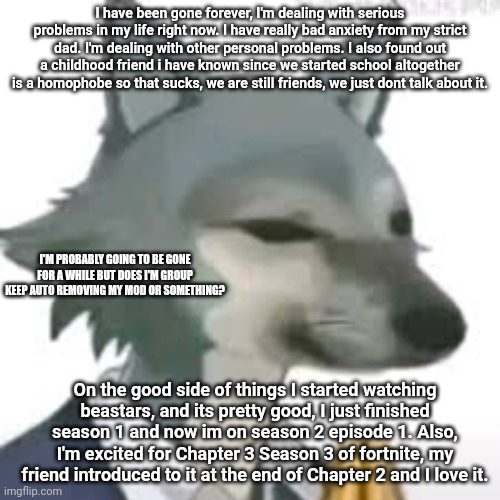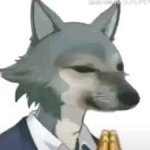 hey, it's gonna be okay, stick to the things that make you happy, and I hope that will make you at least somewhat better (i'm not that good at giving advice, sorry)
Its alright, Thank you for being supportive, anyways have you seen beastars?
sadly... no, I have not seen it, but I plan on seeing it in the future
Its really good, I highly recommend it.
beastars is my favorite show ever, its just *chefs kiss*
I have noticed you are looking at my profile, thank you bro
np :) always here for you<3
It wouldn't make much of a difference, but thanks anyways ig
Show More Comments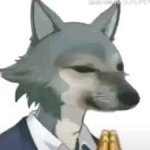 IMAGE DESCRIPTION:
I have been gone forever, I'm dealing with serious problems in my life right now. I have really bad anxiety from my strict dad. I'm dealing with other personal problems. I also found out a childhood friend i have known since we started school altogether is a homophobe so that sucks, we are still friends, we just dont talk about it. I'M PROBABLY GOING TO BE GONE FOR A WHILE BUT DOES I'M GROUP KEEP AUTO REMOVING MY MOD OR SOMETHING? On the good side of things I started watching beastars, and its pretty good, I just finished season 1 and now im on season 2 episode 1. Also, I'm excited for Chapter 3 Season 3 of fortnite, my friend introduced to it at the end of Chapter 2 and I love it.
hotkeys: D = random, W = upvote, S = downvote, A = back