My heart goes out to parents (of lazy kids) who have dealt with this subject.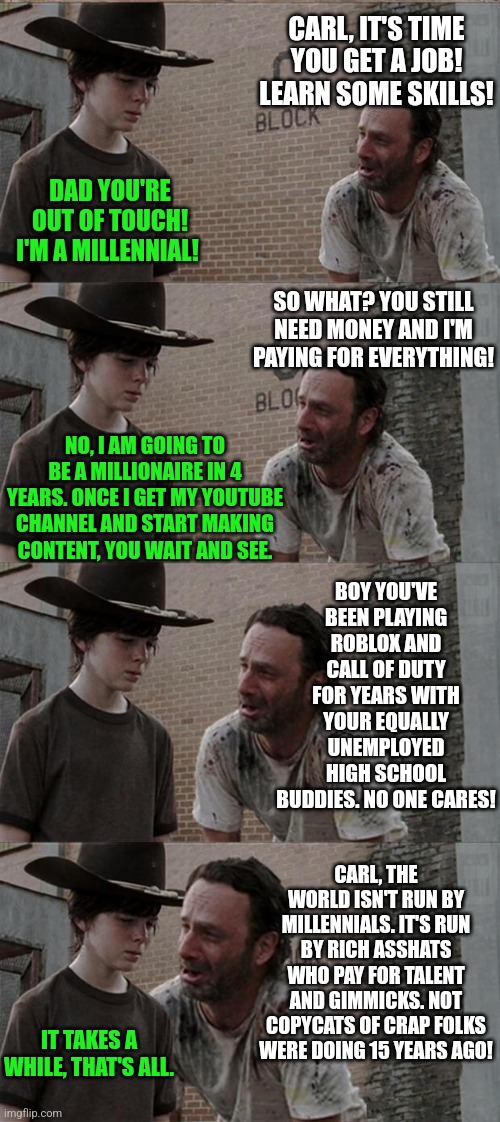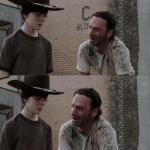 Life lesson #34. If it was easily duplicated, everyone would be doing it. And if you had talent, you'd already be a millionaire.
Show More Comments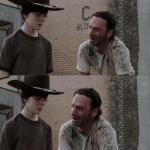 IMAGE DESCRIPTION:
CARL, IT'S TIME YOU GET A JOB! LEARN SOME SKILLS! DAD YOU'RE OUT OF TOUCH! I'M A MILLENNIAL! SO WHAT? YOU STILL NEED MONEY AND I'M PAYING FOR EVERYTHING! NO, I AM GOING TO BE A MILLIONAIRE IN 4 YEARS. ONCE I GET MY YOUTUBE CHANNEL AND START MAKING CONTENT, YOU WAIT AND SEE. BOY YOU'VE BEEN PLAYING ROBLOX AND CALL OF DUTY FOR YEARS WITH YOUR EQUALLY UNEMPLOYED HIGH SCHOOL BUDDIES. NO ONE CARES! CARL, THE WORLD ISN'T RUN BY MILLENNIALS. IT'S RUN BY RICH ASSHATS WHO PAY FOR TALENT AND GIMMICKS. NOT COPYCATS OF CRAP FOLKS WERE DOING 15 YEARS AGO! IT TAKES A WHILE, THAT'S ALL.
hotkeys: D = random, W = upvote, S = downvote, A = back