:D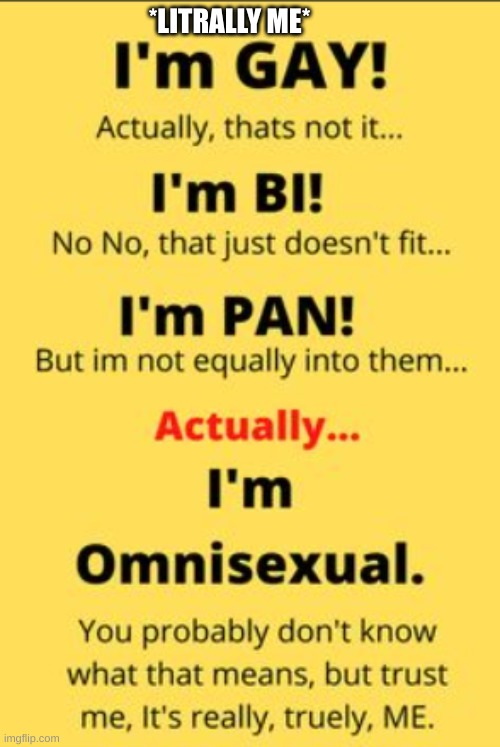 I was Omni before it was cool (I like to think at least)
OH
MY
GOD
WHEN DID OMNI START BLOWING UP!?!?
[deleted]
I know I didn't know that Omni was popular
Same!!! This is literally my life story
I'm not omnisexual but I still support Omnisexual people
Omni has consumed my identity
I'm omniromantic, omnisexual, omnigenderfluid...
omni is cool but Abrosexual is better
I'm not Omni, the label doesn't fit. I just realized that I don't really like boys because all the boys at my school are nasty and I feel emotional attraction, not physical. I'm pretty sure all of them are hot to everyone else. So when I go other places, it's all equal.
No, not really. I've had a bunch of crushes on boys (I have a small one right now), but I didn't notice it until I got out of the toxic dump that is my school. It wasn't that I wouldn't find them attractive if they were decent people who had any emotional depth. Gender doesn't have a role in the game for me. Neither does looks. It's just about the person themself. I thought I didn't like boys for the longest time, now I realized that it was because there was no boy in my school who had that… thing. The thing that makes you look up and smile.
But I like this meme. It's almost exactly my story. Except for I keep going around it.
i used to believe im bi then i thought i was pan but now i know im omnisexual
Show More Comments
IMAGE DESCRIPTION:
*LITERALLY ME*
hotkeys: D = random, W = upvote, S = downvote, A = back