Liberals are mentally incapable of safely owning a firearm.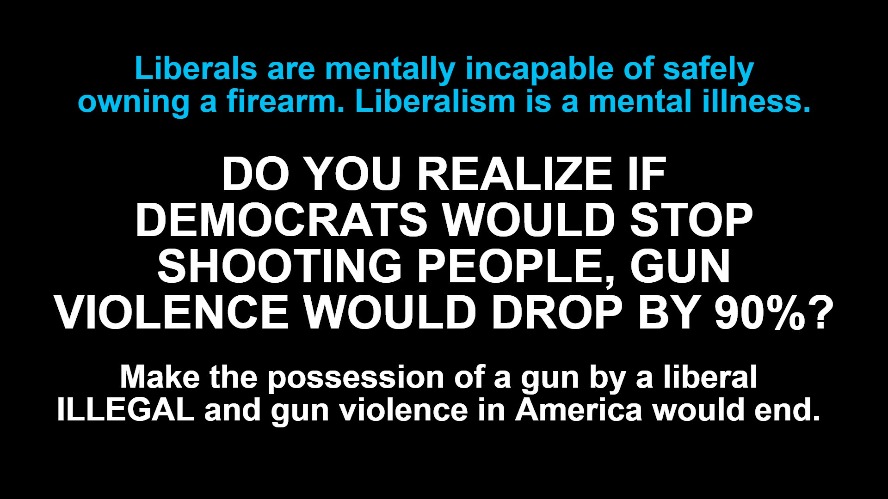 Anybody who doesn't know how to properly use a gun should not own one.
1. Democrats don't commit 90% of gun violence
2. Taking away people's Constitutional rights is, obviously, unconstitutional
3. Liberalism is not a mental illness
4. Liberals are not incapable of safely owning firearms
STOP TROLLING. THERE IS NO WAY THAT YOU ARE BEING LEGIT. I'M 15 AND WAY SMARTER THAN YOU. IF YOU WANT TO TROLL, DO IT ON ROBLOX OR FORTNITE. NOW STFU.
For the love of f**k, stop trolling
I don't need evidence I'm 15 and torment young children on Roblox.
LMAO YOU DELETED ALL OF YOUR COMMENTS JUST TO MAKE ME LOOK LIKE AN ASS. WHAT A SNOWFLAKE.
Interesting point, alm those democrats in Chicago, LA and New York alone would drop it by half at least
Don't pretend that you support the Constitution if you want people's Second Amendment rights taken away just because you don't agree with them politically
Show More Comments
hotkeys: D = random, W = upvote, S = downvote, A = back