Did you fact check it using Snopes?
You said Christians do that kind of thing all the time, so it must be true.
Are you that stupid that you think he's saying that this is a real story? You really are an idiot OM. You take everything literally except when it suits you.
Gotta love how they go back and delete their asinine comments!
from my reply I think I know who it was. Octapussy_Malady or the like.
Sounds like an allegory to me. I am not Christian, but I get the point. If you don't appreciate the context, why not just move on to the next meme?
Fortunately for most people, they can understand the idea of a deity, whether they believe in one or not.
Show More Comments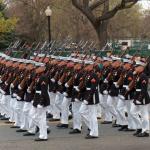 IMAGE DESCRIPTION:
' Semper Fi '; An Atheist professor proclaimed "If God exists, let him strike me down" Nothing happened, so he said, "I'll give Him two more minutes" A gentleman got up and approached the podium. The professor turned to him, just as he punched him to the ground. The professor proclaimed, "WHAT DID YOU DO THAT FOR?" The gentleman replied, "Sir, God is busy protecting my fellow Marines, so He sent me!"
hotkeys: D = random, W = upvote, S = downvote, A = back