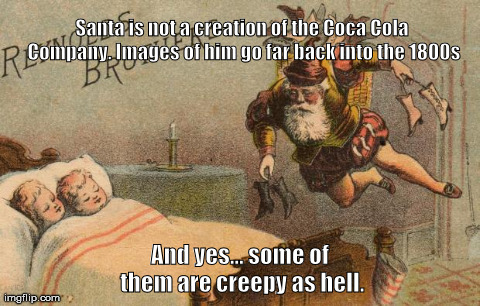 10,756 views
•
32 upvotes
•
No one says he is. His current outfit was a creation of the Coca Cola company.
[deleted]
Most pagan stuff is creepy.
(I'd say something about super-disturbingly-described evil demons and kids being mutilated by bears, not to mention people being nailed to crosses and suffering painful deaths, but i'm not in the mood to argue.)
Actually the modern fat jolly happy santa we see today was in fact invented by Coka Cola. It was addapted from the European "Sinterklaas" that was skinny and wore a pointy hat like the pope. Santas happy little elves were originally known as Krampus and are evil looking demons that would beat you and rip off your ears if you were on Sinterklaas' naughty list. You can find this stuff in any encyclopedia, and of course, on the internet. People still celebrate and have parades for Sinterklaas and Krampus in most European countries. The Krampus actully pull people out of the croud and beat the crap out of them. You can find a few hundred videos of it on Youtube. There are even a few american cities that started doing it, most notably Portland, OR; and San Francisco, CA.
The Saturday Evening Post has images of the modern fat, jolly Santa that predates Coca Cola ads by years.
Iceman is indeed correct...as I did the same research when I saw the Christmas episode on American Dad!
ps...santa is evil...Krampus is not!
Yes... that's the Renaissance fashion for you; when men wear stockings and those fluffy, frilly shorts akin to Tutus.

Currently its the other way
Show More Comments
IMAGE DESCRIPTION:
Santa is not a creation of the Coca Cola Company. Images of him go far back into the 1800s And yes... some of them are creepy as hell.
hotkeys: D = random, W = upvote, S = downvote, A = back