Now THERE's your real explanation.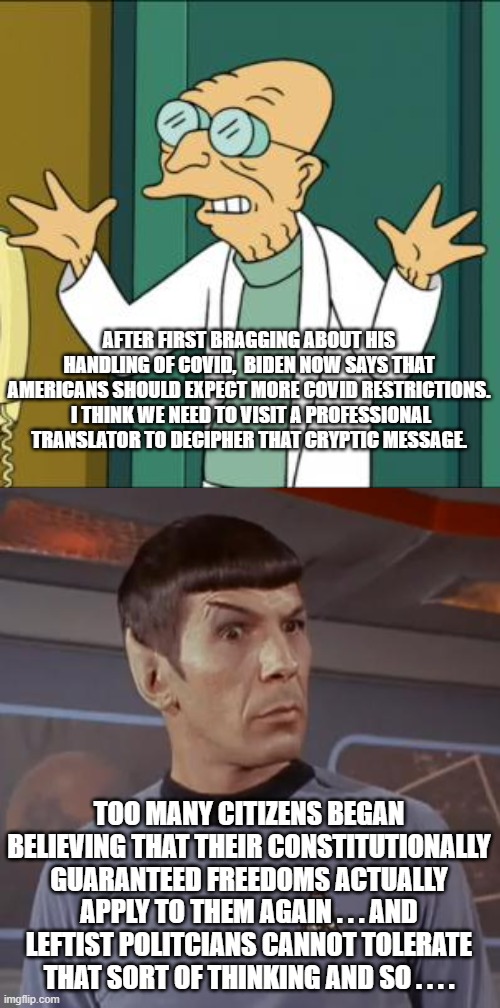 Good one! Here's one that's not getting featured for some reason (COVID misinformation?) It's been four hours now and a meme that I made and submitted AFTER this one got featured, go figure!
Please check it out, let's see how many views & comments we can get on an unfeatured meme!
imgflip.com/i/5i7uzz
[deleted]
Yes. That sounds about right. I like the odds.
Show More Comments
EXTRA IMAGES ADDED: 1
good news
image.png
IMAGE DESCRIPTION:
AFTER FIRST BRAGGING ABOUT HIS HANDLING OF COVID, BIDEN NOW SAYS THAT AMERICANS SHOULD EXPECT MORE COVID RESTRICTIONS. I THINK WE NEED TO VISIT A PROFESSIONAL TRANSLATOR TO DECIPHER THAT CRYPTIC MESSAGE. TOO MANY CITIZENS BEGAN BELIEVING THAT THEIR CONSTITUTIONALLY GUARANTEED FREEDOMS ACTUALLY APPLY TO THEM AGAIN . . . AND LEFTIST POLITCIANS CANNOT TOLERATE THAT SORT OF THINKING AND SO . . . .
hotkeys: D = random, W = upvote, S = downvote, A = back