Gymnast are lining up to take Simone's title.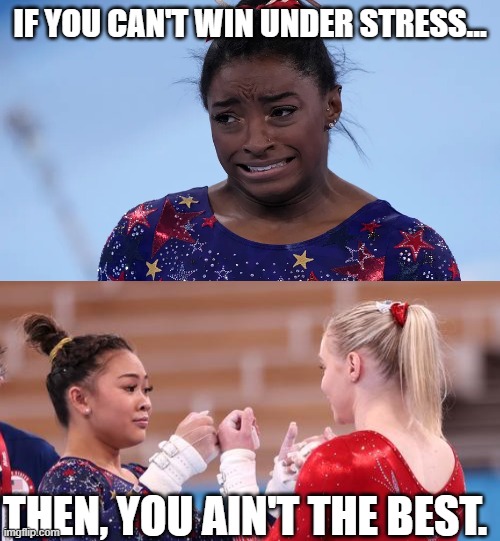 [deleted]
You will NEVER convince our leftists of that since they were raised by their Cultural Marxist educators to believe that competition is inherently unfair . . . thus the participation throphy scam.
My dad taught me to be the best I can, and that my worst enemy would be myself. Something got in this girl's head and took her out. She will have to overcome that before she can ever compete again. I agree with her pulling out though. A career-ending injury isn't worth it, and I've seen these gymnasts lose careers trying to pull off moves they were unsure of.
[deleted]
Agreed. I wish she'd been able to compete, but it'd be crushing to go in cloudy and wreck your body for the next year or two.
People who do actual work for a living have a hard time identifying / sympathizing with someone who chooses, even at a young age, to be in a profession that is essentially entertainment and then decides they need to take a step back before their final performance. Well fcuk me, because I'm pretty much in need of taking a step back myself. Something tells me when I come back from stepping back, someone else will be sitting at my desk.

So, she can do what she wants, as far as I'm concerned. At the same time, I will never feel any pity or sympathy for someone who chooses a path in life, then follows it, particularly to great success, then at the ultimate moment says they can't handle the stress that they knew was part of the deal. Suck it up buttercup, because real life may be waiting for you after you pulled this move. Although I asked google what she's worth, and it told me $6 million, so unless she develops a Hunter Biden style drug habit, she should be just fine financially, which means no real job in her future. I see her being paid large sums of money for speaking to auditoriums full of people who want to hear how brave she was to weenie out.
Yeah I am sure if I went to my commanding officer and told him I could not wake up at 345 AM Monday through Friday to be at my unit at 415 AM to get the privates out to run Physical Training at our Nuclear Biological Chemical Training Unit at 430 AM for 14 months I would be a POS as the Executive Officer! Not a glorified Quitter!
Show More Comments
EXTRA IMAGES ADDED: 1
paste:image.png
image.png
IMAGE DESCRIPTION:
IF YOU CAN'T WIN UNDER STRESS... THEN, YOU AIN'T THE BEST.
hotkeys: D = random, W = upvote, S = downvote, A = back