they've done the same thing to Nora Rita Norita
[deleted]
Personally, I think the design for her is actually pretty good. People just need to stop sexualizing her. Like, what is WRONG with them?! She's literally ten!
the show was made in the 80s, so shes around 30 or 20
[deleted]
First of all it was made in the early 90's, not the 80's. And technically, even though they were created back in the 30's (according to the show), the Warner siblings have never grown past the ages of 14, 11, and 10. In other words, they don't age. Sorry if I sound rude -_-
oh thanks i only watched the reboot
so technically dot is the youngest?
animaniacs is actually confusing to trying to figure out their age
i was trying to make a meme with misspelled words and imgflip blocked it
and it was about anime dot
[deleted]
I know. But you should check out the original. It's top-tier comedy.
this was the meme, it was misspelled like brah petriek serech anie doet on gogle imges
[deleted]
Technically, the warner siblings were all created on the same date. She was just "made" a little bit younger than her brothers
Show More Comments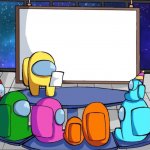 IMAGE DESCRIPTION:
anime dot was a mistake, now people are making rule 34 of her.
hotkeys: D = random, W = upvote, S = downvote, A = back