Your life matters. People of all races lives matter. Unborn lives matter. Leftists and rightists lives matter.your least favorite politicians life matters. Your favorite politicians life matters.
you are unusually thoughtful.
Sadly this is considered unusual
Not most people's, certainly not yours.
it's funny you say that because i saw a meme earlier that said: All lives matter*

and then below it said: *except for .... (and it listed all the people you guys hate on)
Last time I checked, I'm just one person. Not sure who "you guys" are?
you extreme anti-leftists
well of course not mine. i'm not a leftist.
Ah, no. I was referring to the title, logic is not most people's cup of tea.
well then it still doesn't make sense now, does it, so what difference does it make?
[deleted]
just because somebody is a stupid america ruiner does not mean their life doesn't matter
i agree completely. i daily tease them but there's still room for extreme conservatives in a sane America.
[deleted]
So you didn't know I was talking about liberals
hey, i was agreeing with you. let's split the difference ( :
Show More Comments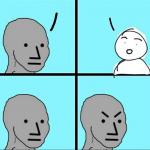 EXTRA IMAGES ADDED: 3
NPC Meme
NPC Meme
NPC Meme
IMAGE DESCRIPTION:
all lives matter; black lives matter; so leftist lives matter?
hotkeys: D = random, W = upvote, S = downvote, A = back