[deleted]
Hello all. I think I shattered/broke my kneecap on my very long walk today. Of course I am not 100% certain as I have not gone to the doctors/ER yet (........if I ever do. I'm really not in the mood to tell my parents that this happened as they would basically have to do everything regarding, well you know, and they aren't the type of people to just drop everything that they are doing and help someone out unless it is life threatening things) but all I can say is I really hope that it is not broken/shattered. I was running FAST (I can run up to 15 mph) and tripped over a root and BAM!!!!! Went straight down on my knee and screamed and yowled for 5 mins straight. I even knocked out my ability to breath for a minuet or two. (Yes yes I know, I'm bleeping stupid. I shouldn't have been running without knowing how to run properly plus I hardly if ever run) I can hardly move my right leg without searing pain shooting throughout it and I certainly cannot bend it. Looks pretty bad in the area too, all cut, bruised and swollen. But the good thing is, even though my leg is in a whole lotta pain, is that this isn't the worst pain I've been in so that's good. There have been two other times where I have been in worse pain when I simply wanted to kill myself because of the pain I was in.

So yeah, that was my day today........how was yours?
So, is your knee better? I've never seen a story that needed a happy ending more.
[deleted]
It is getting there.......it is gonna take another week.

Big green bruise right under my knee that hurts like crud if I touch it/add any amount of pressure to it and a nice big scrape that is annoying the crud out of me as well cause it is sort of like the bruise in a way. No broken bones I don't think cause I'm able to stand on my injured leg.
The broken bones are the key. Just about everything else you can rest and icepack out. Sorry to hear about it, though.
[deleted]
"The broken bones are the key." What?

Plus I can actually move my leg around now as well.

Thank you.
I mean, if you broke a bone, that'd be a whole thing and you'd have to stay off it a long time to make sure it healed right (I honestly don't know if they can put a cast on your patella properly.) But if it's just a big gnarly bruise and scrape, you're probably home free in a couple of weeks.
[deleted]
Ah, right right.

Yep. My parents are really worried about my bruise but I'm more worried about my scrape as I don't even have to apply pressure for it to hurt like crud. -_-
If it's warm to the touch, it's infected. Other than infection, the scrape isn't too big a deal. If the patella is cracked underneath, you probably should see a doctor.
[deleted]
Luckily it's cold.

But how will I know if it is cracked or not? I don't wanna go to the doctors and waste their time or money nor my parents money and time. They all need that for covid-19 related things.
I don't really have the info. Here's what Cedars-Sinai says:
https://www.cedars-sinai.org/health-library/diseases-and-conditions/f/fractured-kneecap.html
[deleted]
Well f**k.......all of those symptoms are somewhat what I have even though I can move my leg around near normally now. I still cannot exactly tell if it is truly broken as the damn scrape is the most painful out of all the injuries that I have. -_- It still looks a bit swollen but nowhere near as much as right after I hit it.

Crap I now wish I had gotten my parents to pick me up and take me to the ER right after I had fallen........Me and my stubborness as well as my trying to be tough like Kron (Dinosaur 2000) and Darth Maul.......—___—
[deleted]
Ok, thanks. A small purple bruise formed yesterday just below my inner ankle.
Show More Comments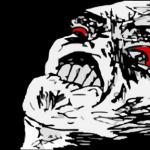 IMAGE DESCRIPTION:
👉 this is the facial expression I have been making all day because of my stupid actions and the pain I have been in after doing said actions.
hotkeys: D = random, W = upvote, S = downvote, A = back