I actually do like some Tiktokers who post animations and drawings and stuff tho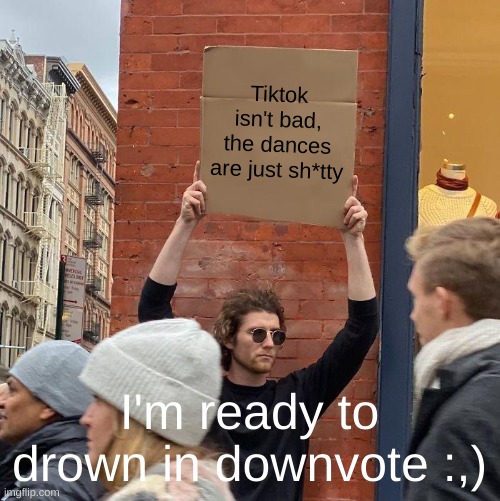 Tiktok isnt bad- there are just certain parts of it that are bad.
if it wasn't for the millions of stupid people who are all like. "Hey that is from Tik Tok they stole it" and all of their cringey dances. I would be fine with tik tok. Like tik tok was made to share fun things people were doing.
Oh yeah. And Tik Tok was made to steal your personal information
tiktok's ok. But the crazy challenges makes it bad , toxic fandons, dances , heat (gacha people might know this) , etc is ruining the app, some parts are decent like the gaming part , memes ,etc and some fanpages (not dunkins,etc). And its fine to use it but not too much, i reccomend not doing the crazy challenges and be you. Not other people who risk lives for views.
Yep I get the gacha heat reference, being part of the community means I deal with that stuff
Show More Comments
IMAGE DESCRIPTION:
Tiktok isn't bad, the dances are just sh*tty; I'm ready to drown in downvote :,)
hotkeys: D = random, W = upvote, S = downvote, A = back