conservative hypocrisy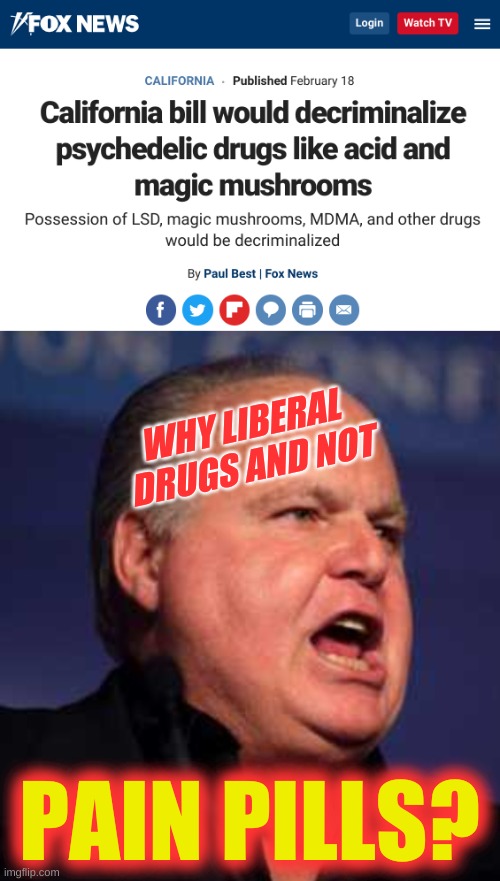 [deleted]
I miss real LSD. Not a fan of most of these new 'designer' drugs
DMT is whats up.

Or so I hear.
[deleted]
I'm old school, I got a buddy trying to get me to try ketamine, that's what got Kieth Moon, and we're both drummers. I'm still on the fence
DMT is old school. Ayahuasca is old af. Lol
[deleted]
https://www.google.com/search?q=tripsafe+lsd as long as people know how to do it safely and distinguish fake from real.
[deleted]
It's the getting it that's the problem. I get bored of mushrooms
[deleted]
yeah, i know the feeling.
[deleted]
https://i.imgflip.com/51nbkg.jpg
[deleted]
https://www.foxnews.com/us/california-bill-would-decriminalize-psychedelic-drugs
what is this crap? Drugs do a ton of damage to the brain, don't know why this is good
[deleted]
like alcohol and tobacco?
"Drugs" is a HUGE term. Some cause harm. Some cause help. Some can do both.
It's good because Rush killed himself.
Rush, or both me and Rush?
Grammer guy account officially dead!
Show More Comments
EXTRA IMAGES ADDED: 1
paste:image.png
Rush limbaugh
IMAGE DESCRIPTION:
WHY LIBERAL DRUGS AND NOT; PAIN PILLS?
hotkeys: D = random, W = upvote, S = downvote, A = back