Weird French Vintage Ad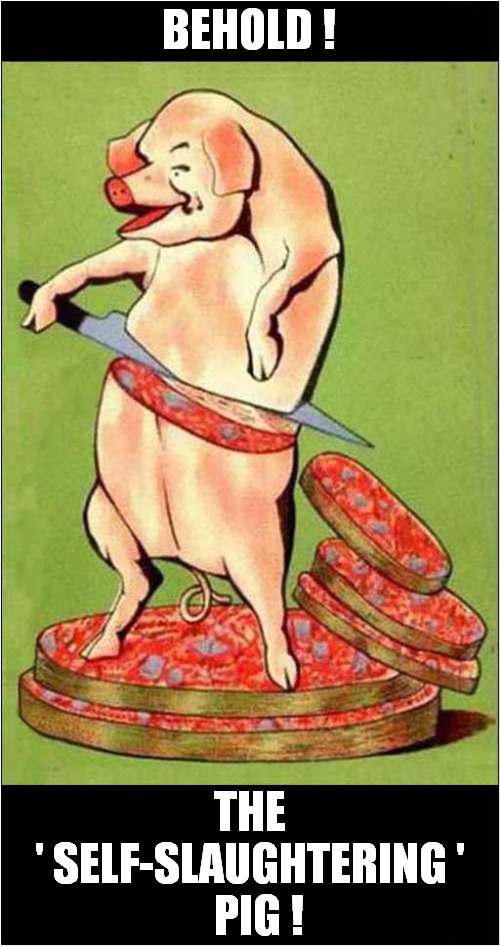 I posted a much better version of the above earlier today with French captions (because the picture had French script) I cannot see why the submission was denied - I see no restrictions on language in the rules
Sitewide the captions must be English. That may be why it was denied.
Mon Dieu ! Sacrebleu ! Zut Alors ! That hardy seems fair but if thems the rules so be it ...
I overstated it, but the default rules are English must be the primary language used and other languages are allowed so long as the main gist of the meme is understandable by English speakers. They allow for streams to set their own rules regarding language so it's not disallowed site wide.
As I thought from previous postings that I have done in languages from French, German, Russian and Japanese - (I've got a lot on my hands and Google Translate !) - I think that If you take the time to put the English translation in the caption, It should be OK. - Thanks for the reply :~)
unfortunately, any pig living in the meat industry will never smile.
Don't all pigs live in the 'meat industry' ?
ah yes, just what i needed
LMAO i have no idea.

i just found an otter that seemed satisfied with the self slaughtering pig
Otters are carnivores so they may be partial to the pig or the salami !
i mean if you want to put it that way...i guess lol
[deleted]
thats just a picture of my, except the kife would be on the wrists
But would that reveal a salami running through your arm ?
Never try to find out :~)
Show More Comments
IMAGE DESCRIPTION:
BEHOLD ! THE ' SELF-SLAUGHTERING ' PIG !
hotkeys: D = random, W = upvote, S = downvote, A = back