Yea you suck beez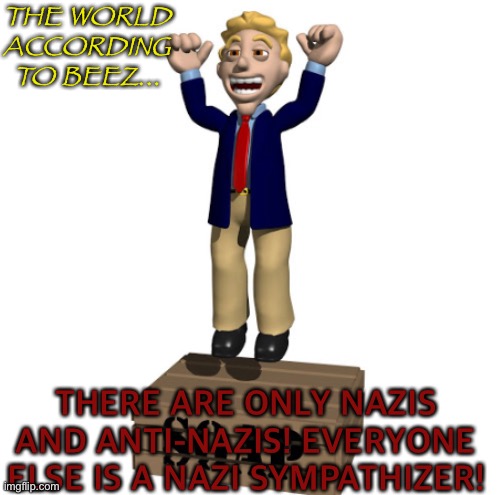 you want a Nazi to be able to spew Nazi propaganda (which is against the TOS for harassment).
that works to an extent. if it was a school bully, that's perfect. Or if the user is an actual member of the community. But whitenat and moonman are just Nazi trolls, no amount of teaching will change their minds.
[deleted]
What about atnti-nazi trolls? Are they any different?
yes, because of what they stand for.Nazi trolls want minorities, lgbtq+ members, and Jews to have no rights, and see themselves as Superior simply because of their race. Anti Nazi trolls are just trolls against that.
[deleted]
What if someone, like me, had a religion that prohibited supporting gays? Is that hateful and warranting an army of trolls? You can disagree with him all you want, just don't take away his platform
so I should let him tell me I should die and don't deserve rights? That's more than just mere disagreement.
that quote was made before the Nazis were heard of. If they were alive today to see what has gone through history after that quote, they probably would have changed it
It's one thing to disagree with someone but when it comes to things like shouting "fire!" in a movie theater, that's when freedom of speech draws the line. So when you say racist things and nazi propaganda that is not protected by freedom of speech. That's because being a nazi is racist and is not protected under freedom of speech.
disagree, everyone can change a point of view given enough time
we don't have that much time, and whitenat will probably just not listen. Even if we prove him wrong in every possible way, and explain why racism & anti-Semitism is wrong, he'll still be racist and an anti-semitist.
no saying racist things is always bad but just deleting their comments and images is not the way.
If one person has hate and racist comments
if you lock them up or restricted them from saying those things. all of those comments are still there
if you help them those comments will eventually go away
Show More Comments
IMAGE DESCRIPTION:
THE WORLD ACCORDING TO BEEZ... THERE ARE ONLY NAZIS AND ANTI-NAZIS! EVERYONE ELSE IS A NAZI SYMPATHIZER!
hotkeys: D = random, W = upvote, S = downvote, A = back