That's life!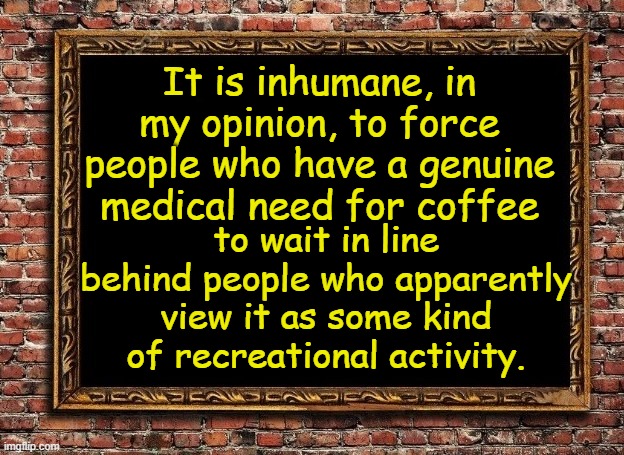 [deleted]
hello! i'd like to say. thank you for being here and being here for SIX years! it sucks for people to leave and i don't want a 6 year user go... sooooo you might not know who i am but i made upvote giving and i would like to upvote 5 pages of memes. that's 50 or 60 memes. would you like the offer?
[deleted]
I totally agree...and I wish I could take credit for it. The author was Dave Barry, a prolific author who also wrote a column for the Miami Herald newspaper in the 80s and 90s.
Ahh, a man who really undersands the difference between Coffee and some esotheric hype around a "coffee" selling fast slow food drinks franchise company.

I liked the old style coffee shops, were the customer builds up a personal social relationship with the barista and gets not only appreciated for his mopney and watching resp participate into slavery at its finest.
[deleted]
Ookayyyy, thank you - I'm not above taking a compliment wherever I come across one.!
And you didn't even had to complain about my messed up english writings. lol
How old are you? Usually my uncles tend to be older than i am, otherwise you aer just a cousin or friend, if you like to. tho.
[deleted]
How old am I? Let's just say that if and when the Social Security Administration becomes bankrupt, I shall be totally screwed!
Show More Comments
IMAGE DESCRIPTION:
It is inhumane, in my opinion, to force people who have a genuine medical need for coffee; to wait in line behind people who apparently view it as some kind of recreational activity.
hotkeys: D = random, W = upvote, S = downvote, A = back