Guess this is the first post here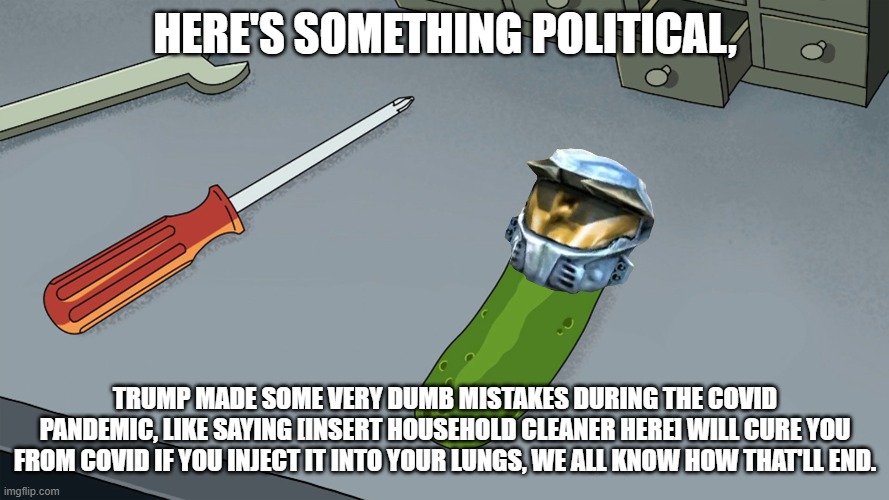 Well if you inject lysol into your lungs, you won't die of COVID-19

You will die just not of covid-19
[deleted]
This is why trump is an I d I o t
[deleted]
Let me quote Biden Mr know it all:

"if you don't vote for me.....you ain't black!"
[deleted]
ellipses aye you missed some words there buddy
[deleted]
Fill me in Mr I know everything about politics.
[deleted]
1) ima girl
2) never said I know EVERYTHING
[deleted]
I knew that
I know that, but you seem to think you know a hell of a lot so fill me in
[deleted]
1) oh okay lmao
2) no not really based off the stuff I know and the news displays I dont like him
[deleted]
News displays. You know that shit's all fake and they'll do anything for drama/A story, right?
[deleted]
okay
but I'm REALLY not in the mood for talking about politics
maybe tmrw
Show More Comments
IMAGE DESCRIPTION:
HERE'S SOMETHING POLITICAL, TRUMP MADE SOME VERY DUMB MISTAKES DURING THE COVID PANDEMIC, LIKE SAYING [INSERT HOUSEHOLD CLEANER HERE] WILL CURE YOU FROM COVID IF YOU INJECT IT INTO YOUR LUNGS, WE ALL KNOW HOW THAT'LL END.
hotkeys: D = random, W = upvote, S = downvote, A = back