It almost reminds me of the person who made her delete... I don't trust it. I'm just gonna keep an eye on him for a bit.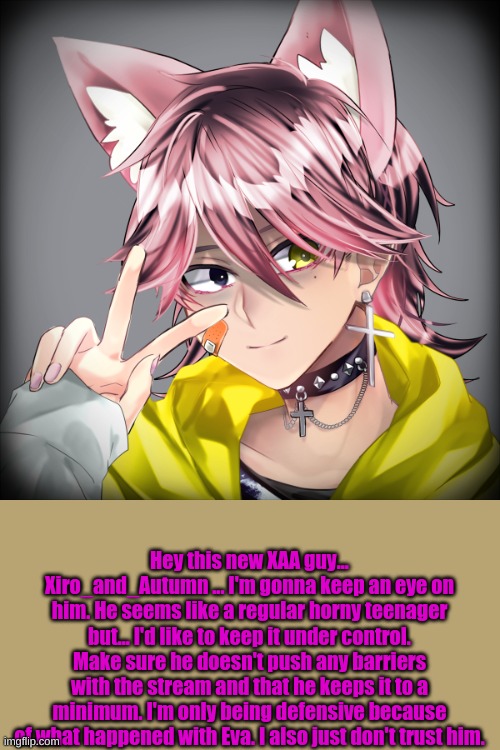 Lemme know if I can help. We want the experience here to be fun, obviously, but also safe.
Just like a warm hug from a friend
[deleted]
Thats is kind of old news- YOU DIDNT KNOW?
[deleted]
mk srry if sounded mean cuz i put in in all caps :/
Well, I knew of someone deleting but I didn't know it was eva
Okay, I get why you don't trust me, some time ago, I was a bad person, but i can't afford to not try and change anymore.
[deleted]
You were the only person I trusted, now gone
[deleted]
Thank you comrade I can tell you everything about him if you want, but don't tell a soul.
Show More Comments
NSFW
IMAGE DESCRIPTION:
Hey this new XAA guy... Xiro_and_Autumn ... I'm gonna keep an eye on him. He seems like a regular horny teenager but... I'd like to keep it under control. Make sure he doesn't push any barriers with the stream and that he keeps it to a minimum. I'm only being defensive because of what happened with Eva. I also just don't trust him.
hotkeys: D = random, W = upvote, S = downvote, A = back