Democratic People's Republic of Korea (DPRK) vs Republic of Korea (RoK)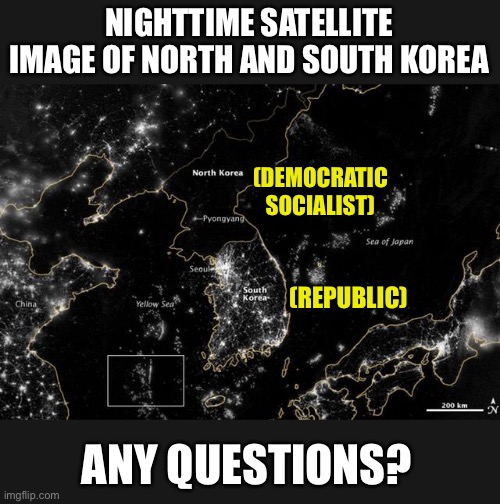 [deleted]
I have one question. Does Kim win the election by 100% or by 100%?
Wait! Are you insinuating Democratic Socialists aren't really Democratic? 😲🤫😎
[deleted]
I mean No Ko calling itself democratic is a bad joke. It's a third generation stalinist regime where a few control as much as possible. To even think there's such a thing as elections over there is laughable.
Do you even think you would survive opposing that regime? Or founding a different political party?
Sorry, you're missing my sarcasm, perhaps. They do have elections and Kim Jong Un always wins. But we also had East (Deutche Demokratische Republic, DDR) and West Germany.

If you study what Ayn Rand learned and preached, you'd understand why even US Socialism will devolve to Communism and eventual economic failure. If you take away personal incentive, you take away everything necessary to guarantee meeting needs of oneself and society efficiently. It's similar to the concept of taking care of the pennies and the pounds take care of themselves.
[deleted]
Guess who applied for a PPP loan recently. Indeed, the Ayn Rand institute. People like her shouldn't be taking seriously at all.

Secondly you do realise that the Russian and Chinese communists were both aided by the West to create an enemy in the first place. War is big business. Something the bankers quickly realised after the Napoleonic wars.

Third you should consider that capitalism, not communism, has brought the world on the edge of economic collapse twice already. The great depression and the financial crisis. You say we're a great economy but don't forget that we can print money without it being backed by our gold. All thanks to Henry Kissinger.

It's highly unlikely that communism has a chance here. Our social mechanics just aren't the same as in Russia and China.
Your Ayn Rand opinion is moot and baselessly dismissive.

Let's look at the 2008 financial crisis for example. We used bail-outs to spare the pain of what capitalism should have done naturally. Companies should have been allowed to fail so newer, more adept players could rise and compete. Instead, the Socialist method was used and the same people remained in control of those companies with the same shortcomings and bad policies. This will likely happen again.

"You say we're a great economy but don't forget that we can print money without it being backed by our gold."

Just because you could do something, doesn't mean you should. It is often short sighted Socialists who, when running short on money, want to print more as a short term stop gap. But we know where that led in places like Venezuela.

If we turn Socialist, it is a stepping stone to Communism as state powers increase and individual rights decrease; the fall is inevitable.

I am trained to fight Communism and will be damned if I let them play in my own backyard. It's a bad system because it doesn't work, no matter how much control you surrender to the state. They will always demand more power because it is destined to fail. It's a nice thought in theory but not practical in reality. (See also Goldratt's "The Goal" and his theory of constraints for management)
[deleted]
North Korea isn't "democratic socialist".
It's in their name. North Korea (DPRK) like most communist regimes name themselves something to sound more appealing to everyone although in reality they are anything but. See my earlier references to former East Germany's (DDR) name or present day China (PRC). I am using the proper name(s) they gave themselves and use. I don't believe in or promote their propaganda in anyway but will show respect due any potential enemy by using their actual name.
Show More Comments
IMAGE DESCRIPTION:
NIGHTTIME SATELLITE IMAGE OF NORTH AND SOUTH KOREA; (DEMOCRATIC SOCIALIST); (REPUBLIC); ANY QUESTIONS?
hotkeys: D = random, W = upvote, S = downvote, A = back