If others are like me, the economy might be about to nosedive.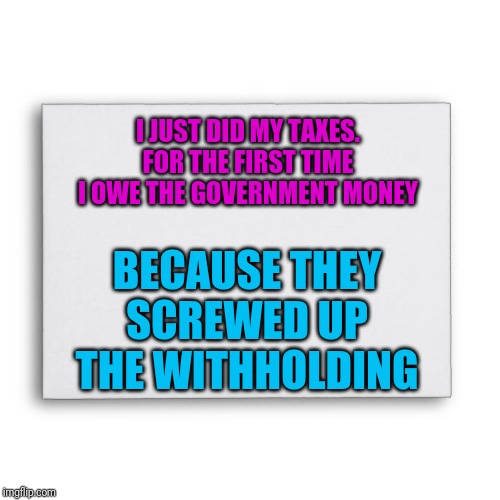 reply
Doubt it... You employer either screwed up (government doesn't withhold, the employer does) or you filled out your forms incorrectly.
reply
I haven't changed my W4 in 25 years.
reply
Then your employer screwed up.
reply
The government doesn't perform withholding, your employer does. The amount is based on the number of dependents you claimed on the W-4 form you filled out when you started the job.

If you claim too many dependents, not enough is withheld from your check, and you have to pay the difference.

Many people make that mistake, most only make it once. Check with your employer, and fill out another W-4 - read it this time.
reply
I haven't changed my W4 in 25 years. I claim 0, in order for there to be the maximum withholding. I actually made slightly less this past year than in 2018, yet instead of a refund like last year, I owe.

If I were reading this, I would guess that the poster is leaving something out, but I cannot imagine what would cause a swing of thousands of dollars. I am not a financial expert, but neither am I an idiot. I am not a twenty-something with their first job, though can understand why some might assume this.

It had not occurred to me that it was actually my employer who is responsible for withholding, but I had already planned to check on the W4 status. I am starting to wonder if they were tinkering with their payroll system and screwed something up. But to clear, I was wrong about who is responsible for withholding. I am not wrong about my W4.

Also, I have heard also a few others report a similar surprise, which prompted my economy concerns. If my result is due to some change in the tax laws, then others may well be affected as well. It shouldn't be difficult to see how that could prompt economic turmoil.
reply
When I was a W4 employee, I also claimed zero - it was the safest option and ensured that I would be receiving a refund instead of making a payment.

I haven't been an employee of anyone for several decades....it sucks writing that huge check every year. It's like signing away a new car.....
reply
[deleted]
Too bad the schools don't teach you how to balance a checkbook or fill out a W4, instead of filling those heads with gender bending and climate hoax.
reply
See my reply to MichaelRichey.
reply
[deleted]
I wish you the best in your payroll challenge, but honestly don't think this has anything to do with slowing a booming economy.
Show More Comments
IMAGE DESCRIPTION:
I JUST DID MY TAXES. FOR THE FIRST TIME I OWE THE GOVERNMENT MONEY; BECAUSE THEY SCREWED UP THE WITHHOLDING
hotkeys: D = random, W = upvote, S = downvote, A = back