stupid...It's the American people who win with the Electoral College.
Try reading the Federalist papers and other writings of the time. Perhaps you might learn a thing or two...
What makes you think I haven't? I have, for your information, read the Articles of Confederation, the Constitution, The Federalist Papers, and Common Sense, among other letters, papers and books of the time. I can tell you without a glimmer of uncertainty that they system that the Founding Fathers left us was nearly perfect, but it has been twisted and perverted over the last 200 years for power and financial gain. Of the five times the Electoral College has gone against the popular vote (the first three being in the 19th century), two have happened in the last 20 years (the most recent by a margin of nearly 3 million votes), and both cases they were the outcome was in favor of a Republican nominee going against a Democrat after the presidency had been held for two terms.

The point of my meme is that it in this time of bipartisanship, gridlock and infighting, the people of this country - and, in particular, our voices - no longer matter. We are only the means to an end for the upper crust.
Good for you!!! And most of what you just posted is absolutley true. The problem is that 99% of the people here on imgflip are totally ignorant as to how our Constitution works. All they seem to do is parrot what the empty suits and $100 haircut copy readers spew on the Main Stream News. And your meme only reinforces their misconceptions.
The system works, for the most part. Correct the way people are taught (public school system is corrupted) and start putting some elected officials in prison and perhaps we can right this ship we call the United States.
If you comb through the documents, you will find countless examples of the Founding Fathers warning against various dangers and pitfalls to our Democratic Republic. And if you pair those with history, you will see that at nearly every opportunity, our stewards have done the opposite in favor of their own power, ego, or bank account.
Don't get me wrong, the Electoral College was a perfectly fine idea when it was created. While I believe people of the day actually had a better understanding and respect for civics than they do today, they were hampered by the speed of travel, communication and news. Voting for someone would adequately represent your values only made sense.

But now, information travels so fast that people can't catch up, and our representatives are so busy campaigning for their next term that they are no longer interested in the needs of their constituents. None of my district's needs have been met in the last 8 years because our only Congressional Representative is a freshman Congresswoman who only speaks for the NRA. It's very frustrating.
funny you should say that. My congressional representative is a do nothing, race-baiting, Trump-bashing, lying Democrat who is only interested in impeaching Trump. It's very frustrating.
gladly!! But I must warn you, he is a total crook and does absolutley nothing for his constituents, Dems or Repubs. He just collects a fat check. The most dangerous place you can be is between him and a news camera...
I suppose doing nothing would be better than our alternative - a woman actively trying to dismantle decades of environmental protections in a district that relies heavily on environmental tourism to kowtow to her industrial and NRA donors, all while hiding from the press and any sort of public meeting, and simultaneously complaining that she isn't treated fairly in the media.
Please spare me the environmental gobbldygook. California, who arugably has the most enviromentalists per capita than any other state, while claiming to be all about the planet and other environmental issues, is on fire, literally. Their environemental laws prevent the very actions that would curtail the instance of wild fires throughout the state.
Like it or not, the NRA is here to stay. You and your friends have made the NRA a bogeyman in order to get political donations for your candidates.
The NRA has given political donations to BOTH Repubs & Dems.
It's very different here, in terms of the environment. Our district is home to the Adirondacks - a 6 million acre mixed-use state preserve that dominates much of the state. The people who live and work in it rely heavily on environmental tourism - fishing, skiing, hunting, snowmobiling, boating, etc. etc. Our representative voted in favor of repealing the clean air and clean water act, as well as opening the area up to fracking, mining, and logging, because that's where much her campaign's money came from. In doing so, she encouraged the destruction of much of what makes this area financially viable.

As for the NRA, I personally don't have a problem with firearms, or their ownership. Guns are fun. What I DO have a problem with, is when a lobby blatantly buys a politician, and then that politician acts against the interests of their constituents. That is SPECIFICALLY what Madison, Hamilton and Jay were concerned about when they discussed lobbyists in The Federalist Papers.
No. It is a Constitutional Republic
[deleted]
But you don't see the 'We the Chinese People'.
The reason why I saw it's that is that there is rule of the people. People have a voice in politics.
No. It is the "Rule of Law"...not MOB RULE. Yes we have a voice. It is called "representative democracy".
Show More Comments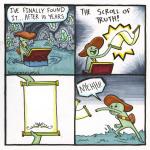 IMAGE DESCRIPTION:
It doesn't matter who you vote for if it's not who the Electoral College votes for
hotkeys: D = random, W = upvote, S = downvote, A = back