Smokers are awesome in bed though. Hit it and quit it :thumbsup:
[deleted]
And you would know from experience won't you?
not trying to flex on you man i upvoted cuz it was funny but facts are facts
[deleted]
Man?!
Did you just assume my gender!?

OK, just kidding but, the link you sent me to wasn't really a "fact" to what you said about smokers being awesome in bed.
(Assuming you were trying to provide me with evidence).

And also, while I am flattered that you said I "inspired" you, was that sarcasm or were you being honest?
Mr.... badguy I think male was a fair assumption.

lol I'm kidding... I'm not seriously trying to establish objective fact in regard to a matter as subjective as sex, but I would say I do have some strong viewpoints that I'm not shy about airing. You've inspired me in the sense that there's a lot of disinformation about sex that I've seen within just two weeks of being here at ImgFlip and I want to try to correct it.

Are smokers better at sex or not? I don't know. It's something you've got to experience for yourself. Again based on absolutely no science, I think the way smokers crave nicotine rewires something in their brain (either men or women) to where they seek out sex in a greater way. But it stops short of turning them into total zombies like other drugs. Alcohol too can be a powerful aphrodisiac. That said I wouldn't date a super heavy smoker or drinker. Everything in moderation.
[deleted]
Nor would I.
Out of curiosity, what disinformation do you think exists about sex?
And what's your interest in it?
Disinformation = Just a bunch of incel bullshit floating around. Woe is me, I'm never going to find a girlfriend type stuff. Well okay then, get off of ImgFlip, get into the gym, go out to the bar, talk to someone, do something other than sitting around moping. I'm interested because I used to be a woe-is-me type. It's a toxic path and I want to say that if you take care of yourself and treat people with decency and respect it does get better.

I thought your meme was funny and I don't actually care whether you prefer to date a smoker or not, lol. But give it a try.
[deleted]
Not interested.
You used to be an incel?
[deleted]
OK, maybe not an "incel" per say but a "woe-is-me" kind of guy as you said.
I'm not trying to start a flame war.
I'm genuinely curious.
Pretty much. Not sure what exactly happened, but I grew out of it. I wish someone had knocked some sense into me sooner and I'd like to be that guy to someone else.
[deleted]
I know what your probably thinking though, "I am an incel?"
(Me not you)

Maybe.
I mean, I am a 6'6, unemployed 22-year-old college f**k-up whose chances of getting a girl are about as low as a down syndrome fellas IQ.
And believe me, I tryed...
I was rejected by every girl I was interested in (probably two dozen times) from puberty through half of college. I didn't have my first kiss or lose my virginity until age 21. I didn't have my first steady girlfriend until 25 (she's now my wife). I just turned 30.

To be 30 years old now, married, and stably employed... it is such a dream come true. Looking back on my early-20's, it was tough. We're told that age is supposed to be the time of our lives, but it really didn't feel that way. One thing I do believe is that 21st-century society is rough for young men in the 18-mid 20's age range. So much is in flux at that time of our lives and nothing feels stable. That goes double for if you don't have a job. I don't know if you are looking for a lecture but...

First thing you need to do is find a job. Any job. You simply won't be able to provide for yourself otherwise, let alone be an attractive prospect in the dating market.

You say 6'6" like it's a bad thing. Indeed that is REALLY tall. Usually height is considered a bonus but I frankly don't know how that affects your dating prospects. Anyway, it is something out of your control so I would try not to stress about it.

Get to the gym, develop hobbies, be respectful to everyone, introduce yourself to as many attractive women as you can, whatever you do don't swallow the incel lies. If you can make it through the next few years, I really think things will get better.
Show More Comments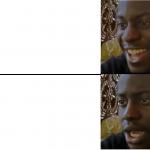 IMAGE DESCRIPTION:
WHEN YOU MEET THE GIRL OF YOUR DREAMS. AND YOU FIND OUT THAT SHE'S A SMOKER
hotkeys: D = random, W = upvote, S = downvote, A = back