I identify as an 8-foot-tall, 22-year-old, transgender, lesbian, half-orc, necromancer.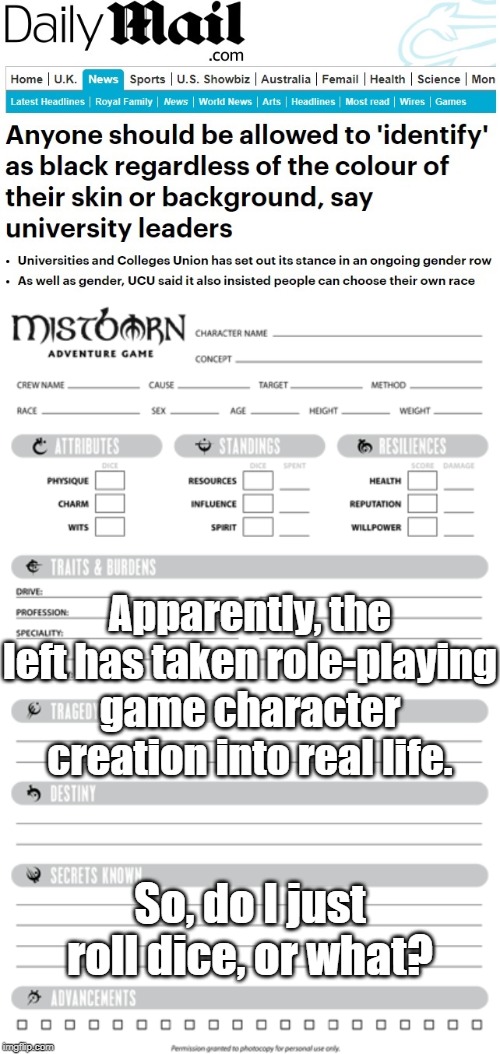 reply
Honestly, you should take up D&D. And not the "cuz u a vergyn" but because it's cool, especially with friends.
reply
"An 8-foot-tall, 22-year-old, transgender, lesbian, half-orc, necromancer."

Damn that's pretty metal.
reply
Odds are very, very good that the Daily Fail is grossly misreporting what the university actually said, knowing that people like you will get your panties in a twist and just believe them.

Because that's how it always turns out.
reply
Maybe you can be as cool as the Jew York Times and fact-check memes.
reply
[deleted]
antithesis is an avowed communist. He has no more credibility than any fake news site.
reply
More to the point, antithesis is an uncritical, dishonest individual who willingly accepts whatever he/she is told without doing even cursory examination to find out if it's true, so long as it fits his/her preconceived notions.
reply
You're the very last person on imgflip...with the possible exception of VastlydumbBoobjob...to be complaining about someone else accepting anything without doing their due diligence.
Show More Comments
EXTRA IMAGES ADDED: 1
Transracial.jpg
product-image-mistborn-adventure-game-character-sheets.png
IMAGE DESCRIPTION:
Apparently, the left has taken role-playing game character creation into real life. So, do I just roll dice, or what?
hotkeys: D = random, W = upvote, S = downvote, A = back