The Bible vs. Zionist Conspiracy

reply
ON THE JEWS (PART I): THE CHOSEN PEOPLE OF GOD

What I mean is, if the Bible was biased towards the Jews, then it wouldn't include marring and scandalous details that can easily be used against them, but would have been taken as a work of propaganda.

This isn't the case.

You read the bible, and it presents a far more negative image of the Jews than any would be comfortable with.

While there's an obvious benefit to being called the chosen people of God, which places them above all people in anyone's mind, there is also a negative aspect of it as well. Why, because unlike the un-elected nations, they bear the heavy responsibility of representing God's righteousness (Isaiah 42:6). It is through them that God used
to demonstrate His goodness before the world.

For that responsibility, they are blessed materialistically, as a show of how God can bless nations who trust and obey Him. However, they are more severely punished if they disobey Him (Deuteronomy 27-28).

Now recall how unflattering their history is in scripture.... they've failed in that responsibility far more than they did in bearing it faithfully (Psalms 106 & Romans 2:17-24).

The Jews were never chosen because they were better in terms of numbers or worth, in fact, He had said they're a "Stiff-necked people", but God simply chose them to affect His will (Deuteronomy 7:7-9, 9:6-18, & Romans 9:16).

Arguably, God chose the least of the people-group to demonstrate His magnanimity.
reply
ON THE JEWS (PART II): ARE THE ASHKENAZI, KHAZARS?

The controversy began with Shlomo Sand with his book, "Inventing the Jewish People" (2009) in which he claimed, through DNA research, that the Ashkenazi which the majority of the worlds Jewry are realy decendents of the Khazars, a Turkic people who've converted to Judaism and moved from the kingdom of Khazaria to Eastern and Central Europe.

This presented a number of problems, not only because it contradicted common understanding that the Jews from the maternal standpoint were from Europe, but also brought an excuse for anti-semites to hate the Jews without... being rightly called, "Antisemitic".

While there is some credence to the narrative (after all, there were such a people of Khazaria), in my mind there are a host problems with the conclusion.

First of all, why were most of the Ashkenazi look more European than Khazarian?

Second, if they were Khazarian then there must be visible, cultural traits that wouldn't be original to Jews such as dress, practices, and customs, but nothing was noticed even by the proponents of of the narrative.

Third, according to the critics of the narrative, there were no records of the Khazarian conversion to Judaism.

The Truth: new DNA findings published in Nature Magazine (Oct. 8 2013), proved otherwise. Thus, the Ashkenazim retained their Jewishness.

SOURCES
1. "Are the Ashkennazi Jews Descended from Khazars?" By Sara Ivry
July 3, 2014 • 12:30 PM The Tablet Magazine https://www.tabletmag.com/scroll/178152/are-ashkenazi-jews-descended-from-khazars
2. "Genetic Roots of the Ashkenazi Jews" By Kate Vandell form The Scientists pulished October 8 2013 the-scientist.com/daily-news/genetic-roots-of-the-ashkenazi-jews-38580
reply
[deleted]
Your mixing the bible up with 1600's and up reformed Zionism. I don't know if your doing it on purpose or not. Ppl don't know what your talking about, seemly.. Neither do you.

But there is a lot of things your not mentioning or trying to argue the bible when it's the Talmud or Kabbalist teaches that brought more hassle and trouble. Not even going to mention translation issues and subversion.. Or more recent massiah claims like zevi and Jacob frank. Jacob frank is the Rothschild connection. Helena Blavatsky And theosophy, do you know what I'm talking about? The gnostic paradigm didn't help and its repush with esoteric teachings. Hermetic Kabbalah mix in the free masons. The amount of Mason's that quote Judaism being related to free mason teachings/metaphysic's. Even the first anti Freemason movie quote this, occult forces 1941. Henry fords book mention about a sect of Jews trying to duck over nations and their economy. Not all Jews. Jews that hate all others, including weak/poor or un pure Jews.

The context to your alluring to is seb zevi's call to reclaim the homeland the expansion of his radical shifts. Then Jacob frank, the 1815's..... Marx and early 1900's Russian history, skull and bones.anthony suttons work, I really can expand but I'm assuming you already know, do you want more to try to disprove? I'm at work so I can't give you paragraphs later on how your being a subvertist or talking about crap your not fully aware of. Jew that don't like Jews is a dangerous concept.

Cut and dry, no one knows what your talking about so I do enjoy laughing at seeing ppl trying to argue with you or talk about Jewish/Hebrew history.
reply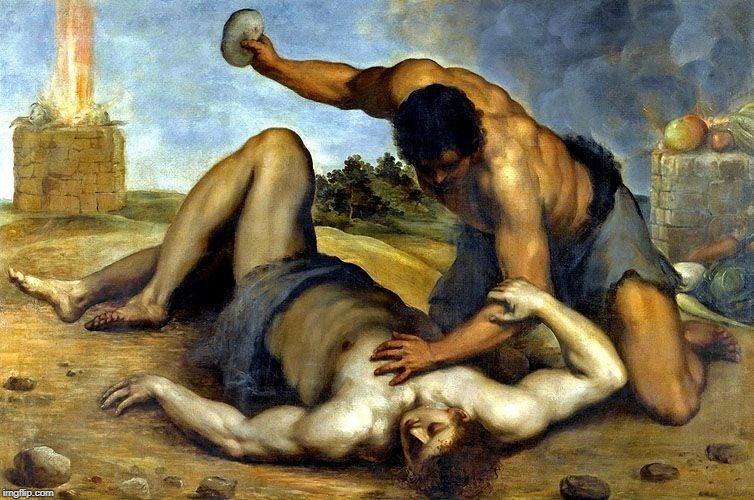 Saying that I have no idea what I'm talking about, doesv not help your case; they are but words unless you prove it

And then you went about linking several different people to the Rothschilds, doesn't help your case either as this Meme is an argiument FROM SCRIPTURE. You're arguijng against the Word of God.

But you know what else scripture says? That if you hate someone, in yoiur heart,, you are guilty of MURDER (Matthew 5:22-23).
reply
[deleted]
Your meme quote nwo and Roth, I
Can quote 1600 and up lol. So you honest don't know what or who I'm talking about? Seriously? Or why they are important or the impact? Like I'm quoting for a reason. I come off as a dick bc you seems like a deceiver of history
reply
[deleted]
Plain and simple, who's zevi and Jacob frank and what did they do?
reply
[deleted]
Go ahead and start picking apart proving me wrong lol I didn't really even dig into the child's. Just wanted to see you twiddle you thumbs and avoid real points. You have no idea who I'm talking about do you?
reply
Again, you're arguing against scripture. Until you can prove to me, that the Bible warns against Zionist Conspiracy, then I'll entertian your viewpoint.

Good day to you.
reply
[deleted]
Real Zionism isnt scripture, it's Jews that hate un pure Jews, kinda the issue with trump asking westernized Jews to support Israel. Its the Talmud/Kabbalah or frankism that preaches real racism and Jewish supremacy. Plain and simple. How you read the Talmud? I have and plenty of the non scripture that you hate some much lol, tell about the gnostic opinion on Jewish history? No effects from that? You make memes about anti Semitism and leave out the real issues. It's the none scripture that's the issues guy
reply
[deleted]
The bible is stolen book that's been altered by trabslations through out time, some on purpose as some non. Like I'm still laughing at all this.
Also it's only really the 3 prophecy that ppl would consider Zionist
reply
Why is it to you, the Bible is a, "Stolen Book" that has been "Altered" by translation throughout time?

And what are those three prophecies?
reply
[deleted]
Your meme is quoting scripture but using nwo and Roth in tags? The Kabbalah or Torah mentions nwo or Roth? lol mentioned the ashken without just simple define the actually translation.... Ashkenazi's used the Talmud as a secondary book guy. Not primary but still used. lol you know scripture well but your trying to branch it to Roth history or nwo nuances. That's more Talmudic frankist depending on the version. have you read the Talmud to understand what I'm saying or why? Seriously an answer please. Also have you read the art of war? The conspiracy your quoting has be subverted so much your not even arguing the real points.

The point your mainly alluding from other than 1900's Zionist movement wasn't made bc of the scripture, it's Messiah cult related. mid 1600's and early 1900's movements. I said 1 name/Jewish cult leader that's was connected, the others I asked if you knew of.

Mid 1600's Rabbi Zevi proclaimed to be the Jewish messiah and reversed all religious laws of his followers to find redemption through sin. Wanted to regain Zion
Grew large but he was eventually forced to convert to Islam, got rebirthed in the 1700's. Jacob frank concept was it's easier for everyone to be bad than pure, to bring the messiah forth. Once again getting popular and getting wealthy attention. His practice wasn't as open as zevi

Still not all sects or all Jews, abunch opposed and fought back at the perversion of zevi and frank. Orgies, **pe, murder, butt sex and Magik lol. This is history you can find on Jewish websites or look up online in the Jewish online libraries like I did and other public domains book sites. Plain ass history

The early 1900's version alone is worse than the others. I mention 1815, early Russia bc it does matter to what you quoted. So much to quote on the 1900's that I'm not even grazing it. Absolutely brutal books, docs and photos. Closet idea of hell on earth for some places. The Roth history you quoted stretches over 250yrs and different countries history of actually documented history

One reason why I quoted economic professor Anthony suttons work for a view of old government state department documents so your not thinking Alex Jones trash

The stolen book is such an ooooooooold debate. Even stolen divinity is old. You'd know this if you read more then scripture .YHWH is yalda, or anu or others. I quoted Helena to see if you heard of a more modern version of that debate? Late 1800's? Her works created abunch of cults and esoteric mixing.
reply
[deleted]
Crowley,thelema.the SF and other's Have you heard of any of this? Created a lot of antisemitism early 1900's. You'll see thelema on Archie's riverdale and stuff you make memes against. No jokes

And your seriously questioning translation issues as if you've never read a pretext or introduction to an old translated book lol come on now your being silly to the history of translating
reply
How will you stand justified before God when you ignore scripture by continuing to malign His chosen people? the lies that have murrdered millions of innocent people in not just the Holocaust but since Diaspora?

You are guilty fo MURDER.
reply
[deleted]
Haha, Enoch's version is better anyways. You have no idea why or what I'm saying? Funny.
I mention cult history,European Jewish history and alt history to you that's not PC and it's my bad. Grow up

Do I actually need to post links to show how much of a douche you actually are? You sound like a fake bc you don't know the Talmud is still taught to in isreal. I'm wasting my time talking to such a phoney person. Can't even have a conversation about history or religion about a topic your quoting. Like hello???? You can't disprove bc you don't even know. Good job being an adult idiot
reply
YnVu I'm going to give you a message I have given to another. This is my last message to you.

"[...], you can count on me to ignore every post you've made here. After all, if you won't listen to me, why should I with you?

You might be a Troll, but trust me, you won't excape from the judgment of God (Galatians 6:7 & Isaiah 64:6).

Your only hope is to trust Jesus alone for your salvation; He bled and died for your sin you've committed against God. And when you've repent of your sins and believe in Him, He will give you eternal life (Mark 1:15 & John 5:24). This He can give to the worst of sinners. because He is good, merciful, longsuffering, and abounding in lovingkindness (Exodus 34:6-7a)

Do it not, you will have only yourself to blame (Exodus 34:6-7b). Laugh now, you will be weeping and gnashing your teeth in the fires of Hell where there is NO reprieve, and NO escape (Luke 16:23-31).

YOU will suffer in terrible agony for an eternity.

That is what will await you, if you do not accept the free gift of salvation (Hebrews 10:31)."

Now, please leave.
reply
[deleted]
nwo Roth Zionist crap is also subversive. The idea has changed so much over time. You'll have dips like Alex Jones or David icke saying some of the stupidest things, Mud for idiots. If ppl really wanted to find decent info or facts. It's all old 1700-1970's books, Corp records, church and state departments records.

It's actually pretty funny to hear some of the new crazy concepts of the Roth nwo Zionist conspiracy your quoting. I'm assuming you've looked it up before to know the argument? Kinda pointing this out so you realize the hypocritical propaganda packed that argument is filled. You'd get more dumb ppl actually looking that crap up by quoting it. I only quote this be I find you to odd and agenda driven. Who talks about Zionism on flip. Come on
reply
[deleted]
Hey Samuel, the blind one. why don't you look up some of this up instead of acting like a progressive liberal
Show More Comments
hotkeys: D = random, W = upvote, S = downvote, A = back