Top 10 words GUARANTEED to TRIGGER a LIBERAL!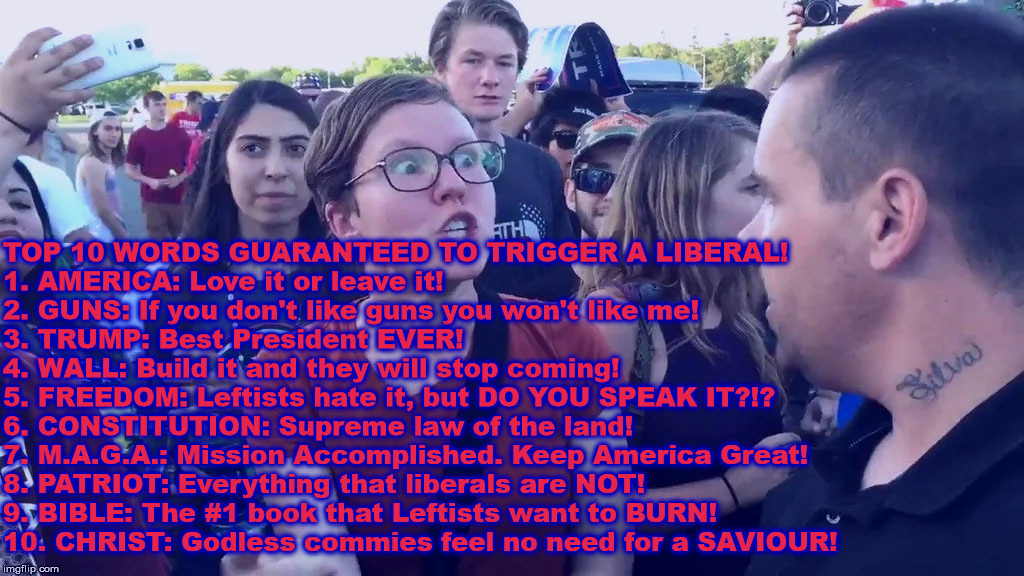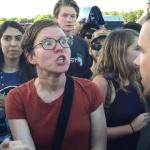 reply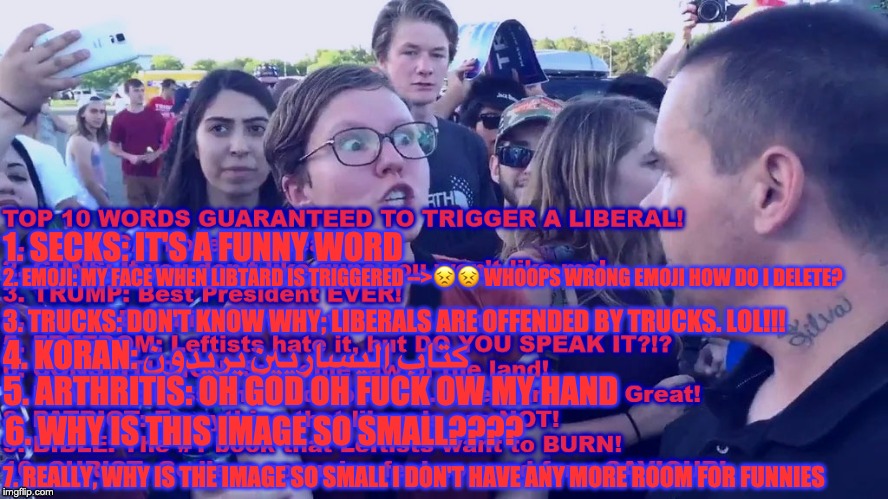 share to trigger a liberals😎😎😎
reply
None of those words trigger me, I don't want to burn the Bible, and I don't need your savior
reply
#10 still applies then. Just because you say you don't need God doesn't mean you really don't. Thanks for proving my point.
reply
Disagreeing with you doesn't mean someone is triggered. Does the word Islam trigger you?
reply
Good. Just like Jesus doesn't trigger me. I just don't need him
reply
I've been thinking. Maybe not commie, but definitely still Godless. I'll keep prayin fer ya.
reply
I also guarantee that liberals will shitpost here because this meme will trigger them.
reply
[deleted]
.....kinda seems like a meme of 10 reactions that the word "liberal" triggers in you, but have fun.
reply
That was weak, man, weak!
Show More Comments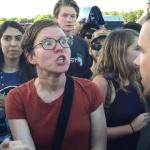 IMAGE DESCRIPTION:
TOP 10 WORDS GUARANTEED TO TRIGGER A LIBERAL! 1. AMERICA: Love it or leave it! 2. GUNS: If you don't like guns you won't like me! 3. TRUMP: Best President EVER! 4. WALL: Build it and they will stop coming! 5. FREEDOM: Leftists hate it, but DO YOU SPEAK IT?!? 6. CONSTITUTION: Supreme law of the land! 7. M.A.G.A.: Mission Accomplished. Keep America Great! 8. PATRIOT: Everything that liberals are NOT! 9. BIBLE: The #1 book that Leftists want to BURN! 10. CHRIST: Godless commies feel no need for a SAVIOUR!
hotkeys: D = random, W = upvote, S = downvote, A = back