Did anyone else go through an emo or goth phase?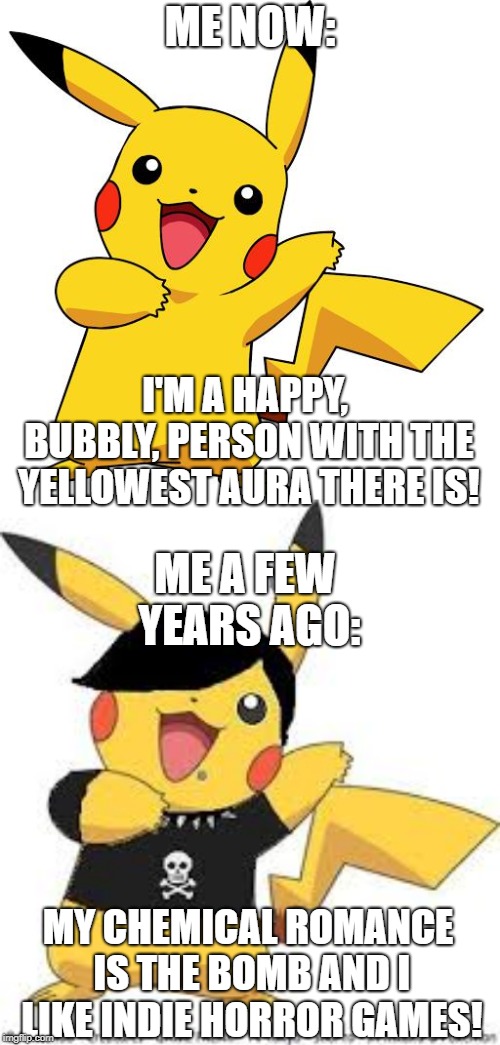 3,133 views
•
29 upvotes
•
You a few years ago: With its signature item, Light Ball, Pikachu might seem like an incredibly dominating threat with offensive stats rivaling some Ubers; however, there are far too many things holding Pikachu back from being effective. Pikachu's main downfall should be fairly obvious: its bulk is absolutely pathetic--even lower than the likes of Haunter or Kadabra. While Pikachu can mitigate its frailty somewhat with Substitute, Encore, and its ability, Lightning Rod, its second downfall isn't as easy to overlook. The very Light Ball that makes Pikachu viable is also what makes it so limited; as Pikachu needs its Light Ball to not be complete dead weight, it is unable to use any other item, including Life Orb and all Choice items. Thus, Pikachu will not hit as hard as you might think it would: traditional powerhouses greatly depend on the boosts these items provide, while Pikachu has to do without. Successfully using Pikachu will require massive amounts of team support and top-level prediction.
I just call myself Pikachu because my geometry teacher gave me that nickname.
Why'd your geometry teacher call you shit?
He thought it fit me because I was hyperactive, I suppose.
[deleted]
I was never, in the entire 11 years I've been on this earth, a "happy bubbly person." Although, I am a huge geek with a love for open-sandbox games!
I haven't gone through an emo phase yet but I want to
[deleted]
Yaar, still goin' through me emo phase, lad.
[deleted]
I am, jus' with a touch of pirate as well, lad.
My chemical romance is back u know
[deleted]
Still going through it lol not sure its a phase for me
Show More Comments
EXTRA IMAGES ADDED: 1
Pikachu
IMAGE DESCRIPTION:
ME NOW:; I'M A HAPPY, BUBBLY, PERSON WITH THE YELLOWEST AURA THERE IS! ME A FEW YEARS AGO:; MY CHEMICAL ROMANCE IS THE BOMB AND I LIKE INDIE HORROR GAMES!
hotkeys: D = random, W = upvote, S = downvote, A = back