Just when you thought it was safe to go into the committee chambers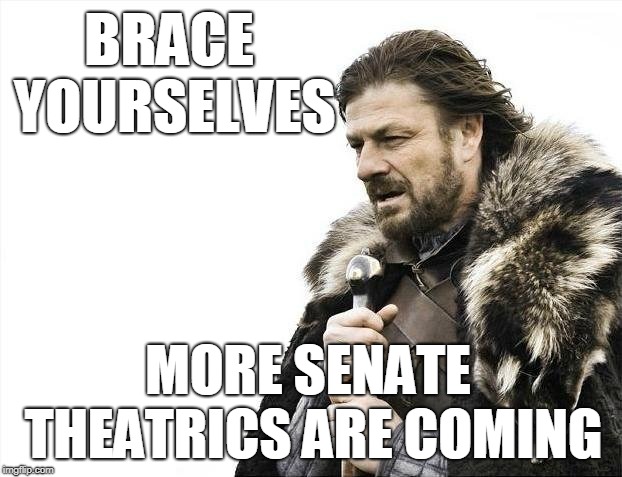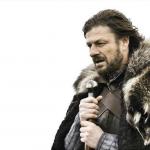 reply
[deleted]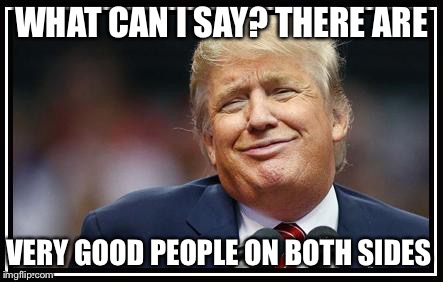 reply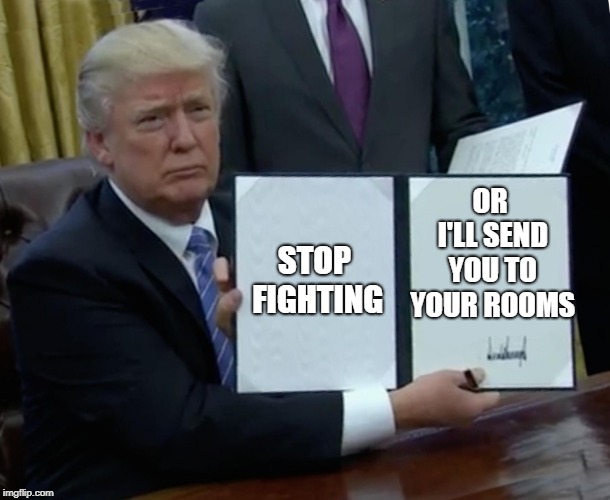 ... and very bad
reply
[deleted]
I finally understand he was calling both sides pieces of shit...
reply
[deleted]
Grind? Do you know anything at all about the methods of exposing a liar? If not? Study up on it.

Then come back and attempt to tell me that Kavanaugh was more credible than Dr. Ford

Again I'm not saying either one were honest only that Ford was clearly more credible
reply
[deleted]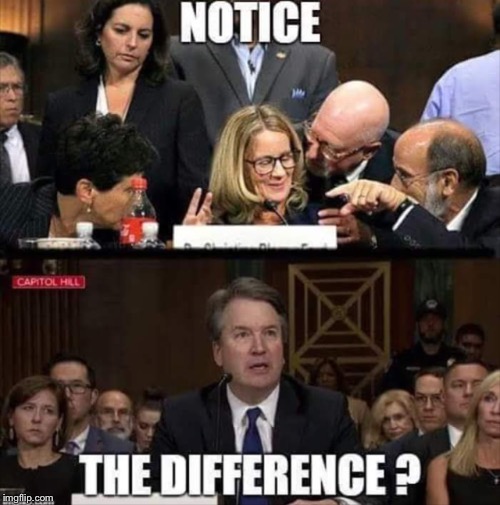 (Not my meme, I found it on my moms FB, lol it's from imgflip)

False.

Kavanaughs deflections were targeted at character smearing questions like the year book stuff or when the Dems asked him "do you want an FBI investigation" to which there was no right answer. He was being attacked by the Dems, not questioned. He was rightfully upset. You've been manipulated by the media and their power word "tantrum".

Ford had to check with her lawyers multiple times on how to answer questions. Her 'all honesty' approach exposed that she couldn't keep the same story for more than a few days. The testimony taken from all of her witnesses contradicts her accusation. She sat there and received praise from the Dems and was politely questioned by Rachel Mitchel.

I don't want to talk about this with you anymore. You're clearly trolling. If not, you're not a very informed person and having a discussion with you is a waste of my time.
reply
[deleted]
So? Someone being questioned by a "prosecutor" shouldn't have the advice of a attorney?

When was the last time a Prosecutor was hired by The government to interrogate a person making a claim? Wouldn't they hire a defense attorney? To cross examine a witness making such a claim?

Why did the republicans suddenly dismiss her during her "interview" of Kavanaugh? They didn't like her questions?

Regardless of the motive of the democrats they didn't accuse Brett of anything. They asked questions regarding his life style of being a heavy drinker because it's possible he doesn't recall the event happening.

His supporters don't make or mean he's innocent. Those who gave statements? They never said it never happened. They only stated they don't recall it.

It's now proven Kavanaugh had a drinking problem and may still have one. His behavior was evasive and deflecting case closed.

It's up to the accuser to provide proof. Kavanaugh would have served himself better by not testifying and keeping his mouth shut. But he's "pride" apparently got in the way and he has most likely screwed himself. Innocent or guilty.

Some one posted an interesting point. Since nothing can be proven either way right now? It was a Q&A.

He's not entitled to the job. He can be rejected for pretty much any reason. If a Democrat wants to? They can vote him down on the bases of not liking he's suit. Lol.
reply
[deleted]
I have more experience with liars than I want. I've studied mind manipulation and control, effectively using lies is part of the toolkit. It was a matter of survival for me to learn.

Kav was being honest. He dodged the questions he needed to because he was under an interrogation by liars trying to spin a false narrative to destroy his credibility and reputation.

Ford is a liar to the core and was being coached. Fortunately she's a stupid liar and Rachel was able to tear her apart.
reply
[deleted]
You have experience? Ok. List examples of cues that expose when someone is lying and then explain them away. The cues Brett committed in neon
reply
[deleted]
I was shouting a few at my tv and I've repeated a few to you many times. I'd have to go back and watch her again to give you specific examples. Here's two of the more obvious ones I've repeated:

Inconsistent story that keeps changing.

Others deny the claims.

Pretty sure I remember these:

Big smiles when they think they've just sold a lie.

Unable to remember details.
reply
[deleted]
1. Small details of a witness testimony can change and still be true. And any experience detective will tell you this.

A person who repeats word for word their testimony is most likely lying because it exposes rehearsal.

So give me an example of her story that has changed to the point of flat out lie and she purposely lied. Maybe I missed it. You just admitted you'd have to go back and rewatch her testimony. That's only two days ago and you can't remember.

I think I told you this already, no one to my knowledge has stated the "party" never took place and they were not there. Only that they have no memory of it.

This means it could have taken place and it's possible they have it confused with other "parties"

"If" and I'm clearly stating "If" this "party" took place and these named people were present? They have motive to lie. I'm not saying they are. Only that motive is there.

Smiling is not a indicator of lying.

Evasive and deflecting is a symptom.
Trying to accuse and turn it around on the investigator is a symptom of lying

He was ranting about conspiracy theories for Pete's sake. The world is out to get him. He brought mom n dad to the hearing??? Using them as props like his daughter. That was sick

Btw? Calling me names exposes you as someone who is not rational or objective so I'll ask this Q?

Why do you have such a hard on for Brett Kavanaugh to be the "Guy"

Democrats has never issue or "conspiracy passing Trumps last pick onto the Supreme Court.

Clearly Kavanaugh believes he's special and entitled somehow.
reply
[deleted]
I've had a change of heart, you are no better than Kavanaugh in that you ignore the talking points and questions you don't like. So let's go ahead and end this.

People who believe things for no reason can't be reasoned with.
reply
[deleted]
I'd rather listen to Maxine Waters queefs.
reply
Not the word I would have chose, but okay!
reply
i.imgflip.com/2j0md1.jpg (click to show)
Show More Comments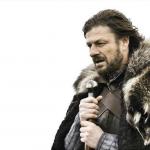 IMAGE DESCRIPTION:
BRACE YOURSELVES; MORE SENATE THEATRICS ARE COMING
hotkeys: D = random, W = upvote, S = downvote, A = back