California sucks, dude, but not on straws,,,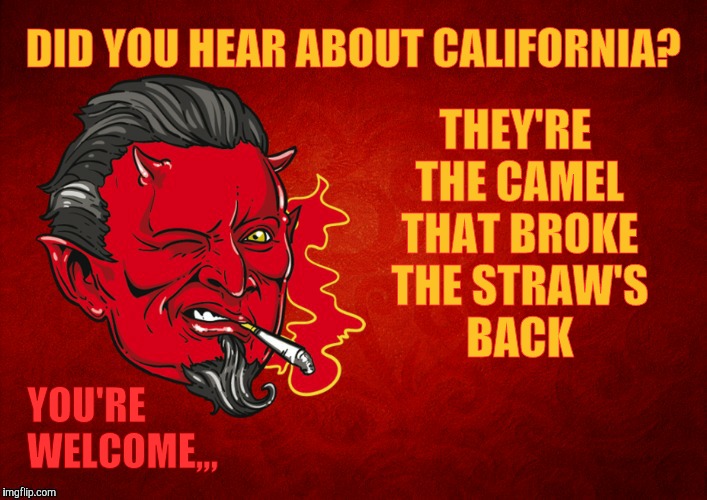 reply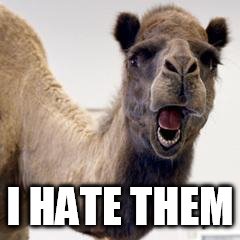 reply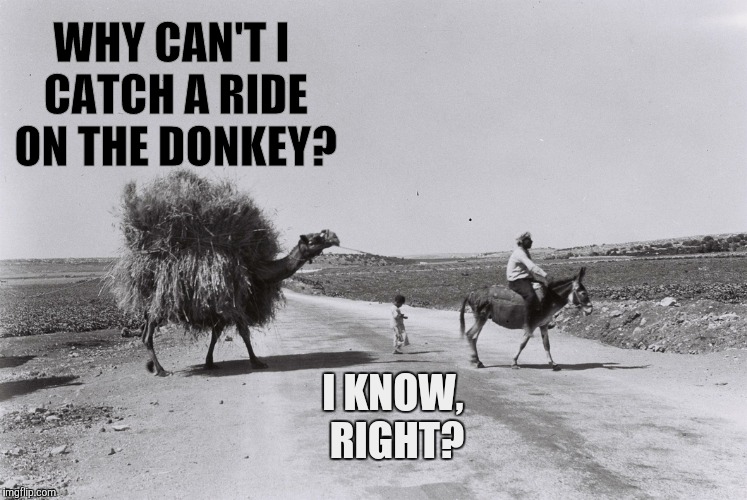 reply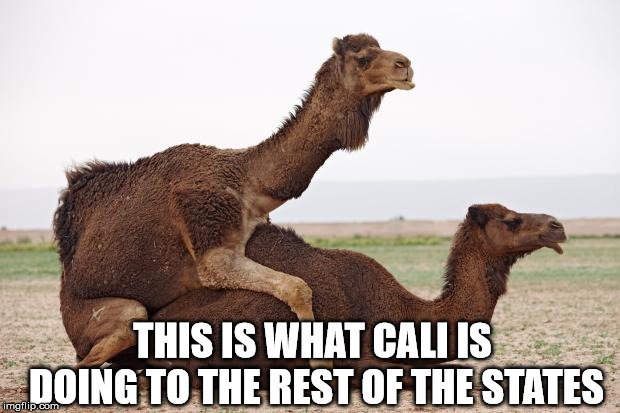 reply
[deleted]
Upvoted and why haven't you made memes lately?
reply
Thanks. This was originally a comment meme.

I spend too much time looking for the right pic to reply with, then I'm not as funny as others are here, so it it takes some doing, and by the time I reply to one, I have 5 more to reply to.

So while it's great to get a hit meme, after it's over I kinda get stressed out.

Plus I prefer to not borrow ideas (I have done a meme or two and some gifs that way tho), but I'm not witty enough to come up with good ones,,,
reply
[deleted]
Sure you're witty enough. Shoot I'm not even really trying anymore, mostly having fun with comments but you know from my stuff before I was disgusting anyway. And that's how I am for real lol sad I know. My poor kids. No you're just very intelligent so some people don't get your humor probably because of that. My son is like that. I get him but most don't. He's smarter than I could even try to be.
I think it's ok to borrow ideas. A lot of people's ideas come from other people's memes or comments.
reply
Sorry with the delay. I don't deal well with compliments, don't know what to say.
Thanks tho. I was hoping this meme might do well, with my reverse play on the "Straw that broke the..." cliche.

What do you mean that you were disgusting?

I'm not too bright, I just know a few quirky things and only talk about that, thus giving the appearance that I really know stuff.

It's good to encourage your son, make sure people don't tear him down on that. Kids are cruel, and some die on the inside because of it sometimes.

With me and borrowing, it's like an OCD, I don't want others thinking I can only do that or that I'm stealing. Worse is like the other day, OctaviaM complimented me on a meme comment. I explained it was derived from another I had found. Not exactly the same, but the influence was there. I dread that, someone thinking I came up with something good when it wasn't mine.
I understand borrowing & reposts are part of the very definition of memeing, so it's cool. But you get some people here with others giving them the thumbs up and they take full credit when you can see they just posted a stolen meme already made.
I've posted stuff saying in the title that it was borrowed,,,
reply
[deleted]
Look at this moron. This is just stupidity and blatant transphobia. https://imgflip.com/i/2iqaov#com2613305
reply
[deleted]
I just dv that sh!t and move on (usually)
This was just a gender DIVISIVENESS meme "theme of the week" at the troll farm. A quick search of Troll Farms will give you many articles with more info. Also, trying to have a discourse with a troll is futile. They are trained specifically to make inane comments to discourage rational discourse. If one comes after you and you want to reply, it's best to do so in a way that feeds only YOUR narrative and/or makes them look foolish.
The new political filter has really put a hitch in their getalong, though, so I'm just gonna meme and have fun here again! =}
reply
They're all over the place.

Then again, would you want a Buffalo Bill in the bathroom with your daughter?
That may seem a tad extreme, but if some should be able to shit in comfort, shouldn't that apply to ALL, or just a select few?

It's a basic body function, politicizing something so simple has consequences, one of them is Trump and this plague of idiots. Urinals belong in mens rooms for a simple reason. Overcomplicating taking a piss is about vanity, not necessity.
reply
[deleted]
I see. I still think that people can enter a bathroom which matches their gender, even if they weren't born with that gender. I'm around trans people quite regularly. So those kind of memes tend to offend me to the core.

And shit. James posted an anti-trans meme. This is just disgusting.
reply
But bathrooms are about releaving oneself of bodliy waste through tow openeings, one of which has to do with physical gender.

Yes, people want to feel comfortable when they have to go. That doesn't apply to the 51% of the population that were born female as well?

James is an idiot. These goose stepping asswipes is why I tend to save opinions like this bathroom one for memes on the side or at least where they're not hopping about. The make it embarrising and uncomfortable to express a simple thought without them utilizing it as nazi fodder.
reply
[deleted]
What even drove this site to be more conservative, anyway? Hackers? The owners of this website?

I just hate how this site is filled to the brim with conservative bullshit. This shit's gotta stop.
reply
I saw Spurs recently and I think another before say it was always more conservative here.
But 2016, BOOM!

It can't be stopped, unless what was done in this link. But still, it's traffic, so there's no incentive to stop it. Besides, we have the option of scrolling past political memes.

https://money.cnn.com/2016/11/30/technology/reddit-steve-huffman-trolling/index.html
reply
So... You're Vagabond, right? Or is tuis the wrong Modda?
Show More Comments
IMAGE DESCRIPTION:
THEY'RE THE CAMEL THAT BROKE THE STRAW'S BACK; DID YOU HEAR ABOUT CALIFORNIA? YOU'RE WELCOME,,,
hotkeys: D = random, W = upvote, S = downvote, A = back