Theres so much happyness it scares me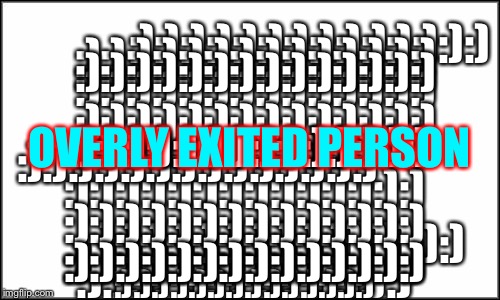 | | |
| --- | --- |
| 212 views, 4 upvotes, Made by anonymous 2 years ago | plain white |

reply
You're a very bored person, aren't you?

Btw, it's spelt 'bored'.
reply
1. Please don't f**k me.

2. I'm not your bro.

3. I'm a girl.
reply
Mk this is one of my best freinds show some respect
reply
Ok, sorry! I just really wanted to correct her mistakes, and then she got pissed off at me, and then I realized how fun that is!
reply
Treat her with some respect plz
I am! I'm correcting her mistakes, therefore educating her, and making her smarter! How is that not respect?! If I didn't respect her, I would not correct her mistakes, and she'll carry on making those mistakes! So, which is better?
Ok, then. Tell her I'm sorry.
reply
[deleted]
Idk why
but for some reason I feel unnaturally happy
it's weird lol
reply
[deleted]
XDXD ILL TRY TO BE HAPPY FOR U
Show More Comments

IMAGE DESCRIPTION:
:):):):):):):):):):):):):):); :):):):):):):):):):):):):):); :):):):):):):):):):):):):):); :):):):):):):):):):):):):):); :):):):):):):):):):):):):):); :):):):):):):):):):):):):):); :):):):):):):):):):):):):):); :):):):):):):):):):):):):):); OVERLY EXITED PERSON; :):):):):):):):):):):):):):); :):):):):):):):):):):):):):); :):):):):):):):):)):):):):); :):):):):):):):):):):):):); :):):):):):):):):):):):); :):):):):):):):):):):):):); :):):):):):):):):):):):):):); :):):):):):):):):):):):):):); :):):):):):):):):):):):):):)
hotkeys: D = random, W = upvote, S = downvote, A = back