You cannot grow an economy by shutting down businesses.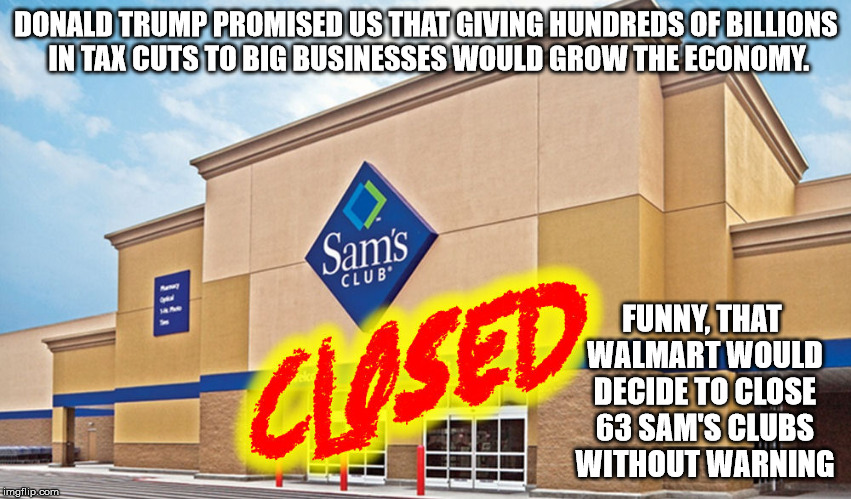 2,634 views
•
6 upvotes
•
[deleted]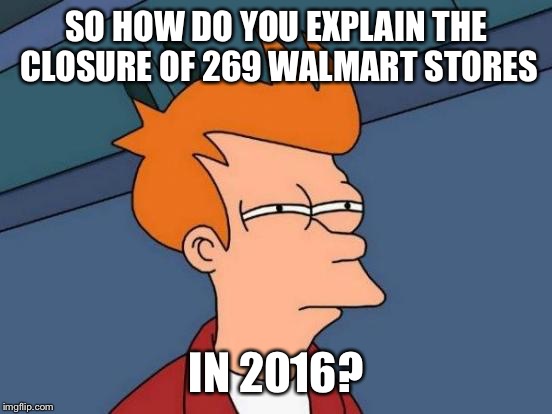 You obviously know nothing about economics
Did you ever show up for work and discover that your facility was closed. No warning. that's what happened to Sams Club employees
[deleted]
Stop with your lying, little boy. You have been debunked. Maybe you ought to get on your homework for tomorrow. Maybe you will actually learn something some day.
[deleted]
https://www.usatoday.com/story/money/2018/01/11/sams-club-closing-dozens-stores-reports-say/1024986001/

"The company attributed the decision to the need to better fulfill online orders, less population growth than expected in some markets and too many competing locations"
Here's the news on the same day. https://www.abc2news.com/news/region/baltimore-county/owings-mills-sams-club-closes-without-warning

Seems a bit unusual that they would announce raises and bonuses and make headlines across the country, but closing the stores immediately as soon as they announced they were going to close some? Mind you, now, these are not just supermarkets, but members only outlets. Besides purchasing goods, their members also have to pay an annual fee to shop there. Is Walmart going to refund that fee to their customers. That is not only poor business procedures, but breach of contract. I hope members decide to go with a class action suit and the AG steps in with a fraud charge.
[deleted]
I love this part:

"Baltimore County Executive Kevin Kamenetz released the following statement on the matter"

A search of Mr. Kamenetz reveals he is a DEMOCRAT. Nobody else besides Demo-rats would blame the President for this. But if you want to go there, I can certainly blame Obama for the closure of many Walmart, Kmart and Sears stores during his tenure.
That's because most democrats can see past the snake oil salesman facade. But then, you still believe that "Trickle Down" works, which was the basis for the recent tax cuts. Notice that the GOP had plenty of support for THAT. Apparently, you lack any understanding of economics, yourself.

In a nutshell, every time the top tier taxpayers get tax cuts, instead of it improving our economy, it depletes it. The fact that Walmart chose to suddenly close the doors on Sam's Clubs. They announced the closures on the 11th, and started closing doors the same day. Funny, how after the Yuuuuge tax cuts were announced, Walmart would do this. This is usually the last desperate act of a company about to go belly up. But this is what the president said would not happen. Give money to the rich, and they'll spread the wealth.

Have you ever heard of a guy named Nick Hanauer? Listen to his TED Talk. (https://youtu.be/q2gO4DKVpa8) Originally, TED didn't release it because this billionaire 1 percenter spoke plainly.

Poor timing and poor execution by Walmart on the heels of the president's announcement that this tax cut will grow the economy. You want to learn more, listen to his interview on The Young Turks, https://youtu.be/th_F_dTGqQc where he goes in further detail on tax cuts for the rich versus the economy. Oh, and he uses the history of how the economy falters along with these huge cuts, but also how minimum wage does not reduce the number of jobs available.
[deleted]
Are you f**king serious?? I give you links to mainstream sources and you give me links to leftist sites like TedX and the Young Turds.

I have debunked you in every thing you have spewed thus far. The links I provide you admit that regular folks are going to be feeling the effects of this tax reform act but you only hear what you want to hear.

Listen little boy, I actually live in the Walmart home office area. I don't work for them, but I have worked for them before, and I know more about this stuff than you do. I can tell you that there are already big hiring increases going on now at WM because of the tax cut, Walmart has been able to raise its minimum wage to $11.00 an hour and give bonuses to regular employees. The cuts that WM has actually made thus far has actually been to WM corporate.

Funny how you asshats are always screaming for this stuff, and then you get it, but since it didn't happen under the President you like, you continue to scream your stupid shit. F**k off, little boy. You probably have never even worked a damn day in your life.
Are you familiar with this TED talk? Apparently not, because what he had to say was so against the grain of the corporate sponsors, that TED did not include it on their website. I'd listen to a Billionaire that uses real examples and history over your overlords that just want to line their pockets more. I realize you get paid for this, but when your bosses discover that you're just picking on old memes instead of current ones, then they'll cut their troll payments to you.

Here's a good one that was found on Twitter. I memed it before it could be taken down. @Novstar reminds me a lot of your blathering
[deleted]
Lol you are a waste of time, little boy. Maybe go sign up to do some Antifa rioting for your phony Democrat overlords. I hear George Soros pays really well.
[deleted]
PS
http://fortune.com/2017/12/20/gop-tax-bill-cuts-start/

"Some of the Republican tax bill's impact will begin at the start of 2018, though other elements won't take effect until 2019 and beyond. For instance, when you file your 2017 taxes in April, you'll already be getting some benefits like lower tax withholding, but other perks won't show until you file your tax return in April 2019."

So most of it doesn't even start until 2019, genius.
[deleted]
http://money.cnn.com/2016/01/15/news/walmart-list-store-closings-in-us/index.html

This was in January 15, 2016. So using your logic I guess I can blame Obama for that.
[deleted]
http://www.al.com/news/index.ssf/2018/01/walmart_giving_employees_1000.html
Show More Comments
IMAGE DESCRIPTION:
DONALD TRUMP PROMISED US THAT GIVING HUNDREDS OF BILLIONS IN TAX CUTS TO BIG BUSINESSES WOULD GROW THE ECONOMY. FUNNY, THAT WALMART WOULD DECIDE TO CLOSE 63 SAM'S CLUBS WITHOUT WARNING
hotkeys: D = random, W = upvote, S = downvote, A = back