Cheap does not always mean less expensive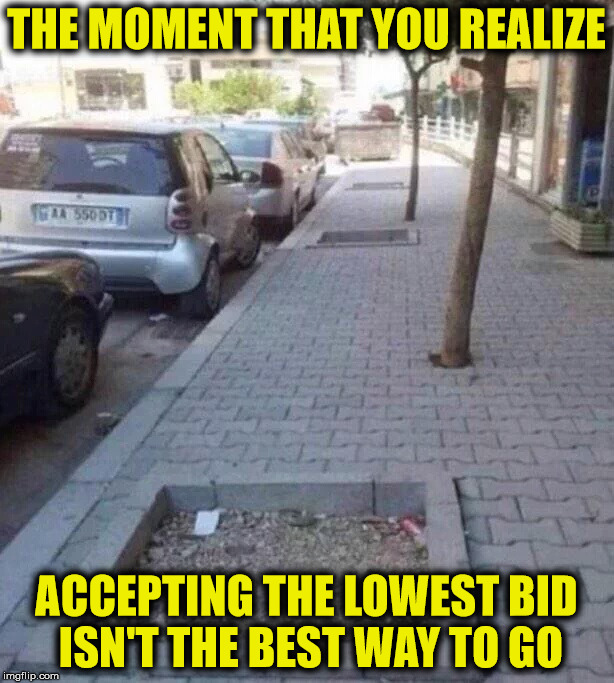 reply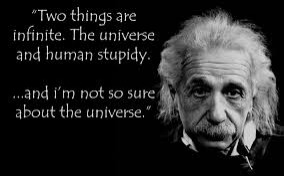 nice find!
reply
[deleted]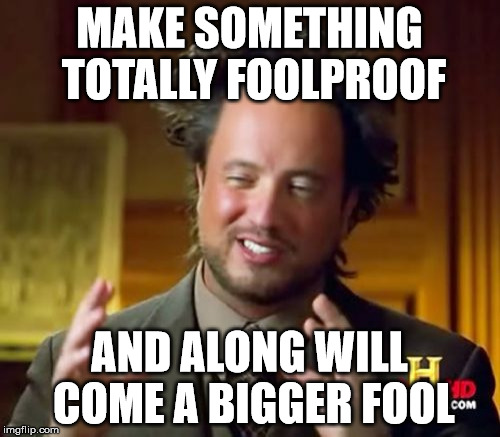 reply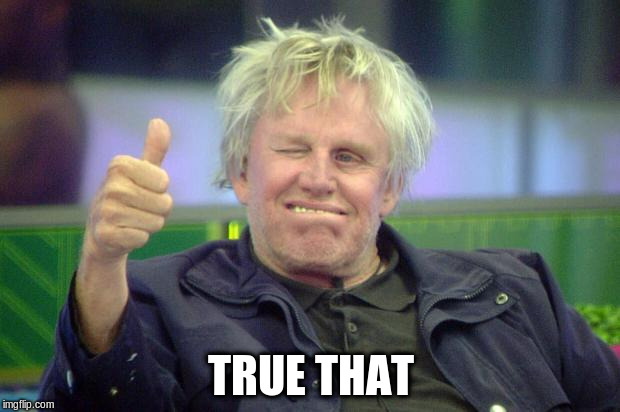 reply
Don't forget though, sometimes the gov't is fairly rigid in their designs, and using common sense is not an option.
reply
[deleted]
I wish the local government was rigid when it came to hiring contractors. A few years back, a contractor won the contract to do some major work in our downtown area. they started in the spring and were to be finished by the end of August. It kept being moved back two weeks until they FINALLY finished up well into January.The contract called for a $1000 a day fine for each day beyond the time limit. The mayor talked the city council into waiving that. Oh, why was it so late? the contractor only calculated losing 2 days of construction for bad weather. This hurt a couple of events the city put on, and businessmen were pissed because of the delay because it hurt their Christmas sales.
reply
That sounds less like an issue with hiring contractors than enforcing contracts. $1000/a day fine seems like a fair motivator, so whoever wrote it was probably doing their job, and probably doing it pretty well.

This could have served as a cautionary tale for others, instead it showed that the city has no balls, basically.
reply
[deleted]
One reason why I'm not too worried that mayor is no longer in office
reply
[deleted]
Around here their repairing a major highway. The company doing the work installed the wrong guardrails for a twenty mile stretch. So the state rewarded them for their mistake by giving them more work. They had to remove the wrong guardrails and replace the with the right ones. In my opinion when it comes to public money the contractors drag their feet and go over budget purposely. But if were private money, like a store parking lot, that job would be done in a matter of days.
reply
[deleted]
Yup. No oversight at all. Brooks construction was looking at fines totaling over $100K and the mayor just blew it off. Within less than 30 days, they had to dig up and repair something that should have been done right the first time.
reply
"Our workers make the difference"
reply
[deleted]
I wish the local council did that.
reply
I see is quite often and it never made sence to me
Why a contractor and public utility town planners never cross reference any existing infrastructure. And the third party builders care factor is zero. Money talks i guess
reply
I live in New York and near where i live they finally finished working on the Boulevard.When I lived in JBLM(a military base in Washington state) they worked on a street called Pendleton and it took them 2 years to finish it.
reply
[deleted]
Yup. One reason why a timeline is important.locally, they built an underpass to keep traffic moving. Took 4 years. They built an overpass a few years later and it was done in a little over a year
reply
[deleted]
https://i.imgflip.com/1vf9gh.gif
reply
[deleted]
That moment when you find a pic that you know will make it to page one...
Show More Comments
IMAGE DESCRIPTION:
THE MOMENT THAT YOU REALIZE; ACCEPTING THE LOWEST BID ISN'T THE BEST WAY TO GO
hotkeys: D = random, W = upvote, S = downvote, A = back