yeah. ask isis, and all of the other groups
[deleted]
Prob is the KORAN was written by both the devil and God according to them. Next question is which part of it do you believe if you can't tell the dif between either. Not a "good" book by definition if written by absolute evil AND absolute good.
and why would you listen to something written by conflicting sides?
[deleted]
I read it for a Christian focused cults and religions class I had in highschool. It literally give them permission to kill us if we don't agree to convert to Islam.
[deleted]
I'd say so! There's a meme and I wish I could find it. But the point of it is with most other religions like Christianity and Judaism, you leave them alone and they'll leave you alone. Islam: you leave us alone, we'll STILL kill you.
Show More Comments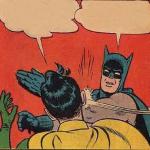 hotkeys: D = random, W = upvote, S = downvote, A = back