Trump and the media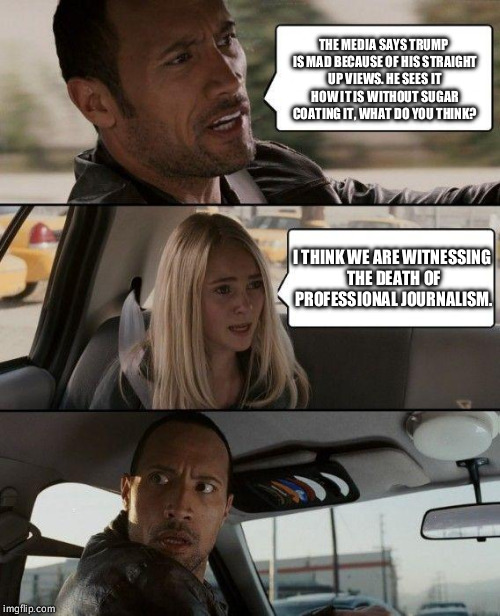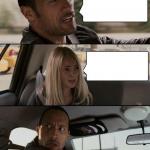 reply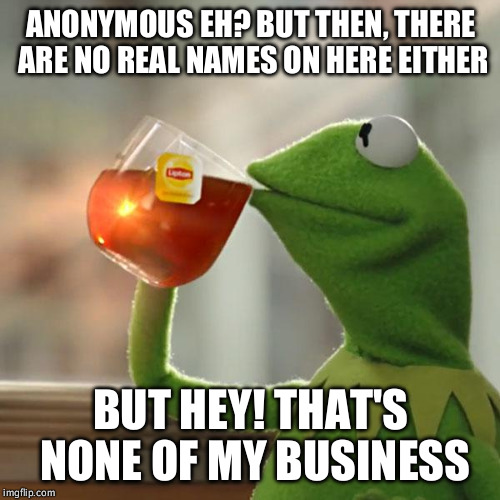 Really???
reply
[deleted]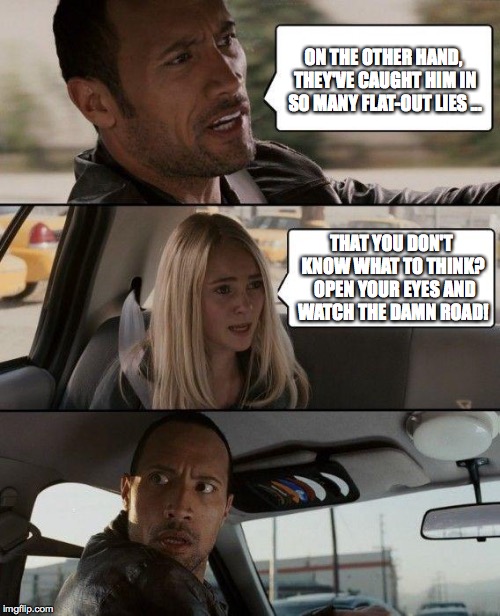 reply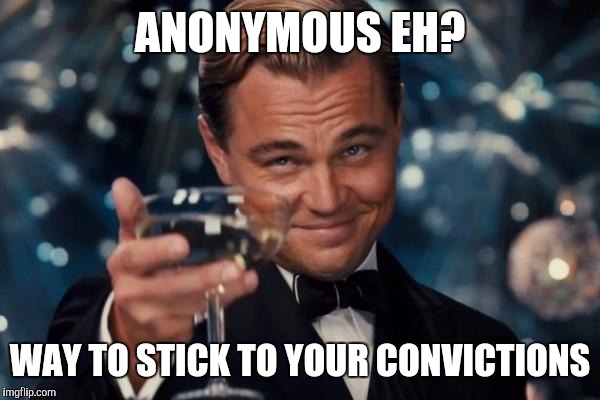 reply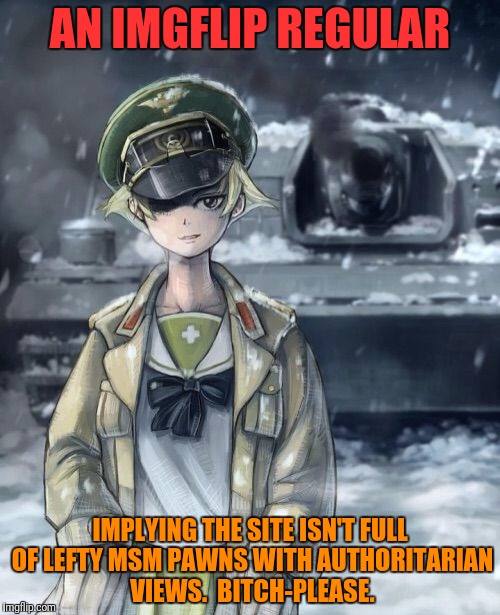 Most anon stuff is just people over the submission limit. Call yourself off.
reply
Not true unless they're using alts. And if that's the case, show yourself. Anonymous is just an excuse. What are you afraid of? If thats the case, then your convictions are as solid as your anonimity.
reply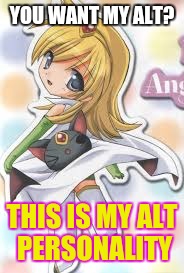 I do my 'trolling' as it has been labeled, was always in the open.

Ya'll are so tightly knit in ur bubble everything looks like the 'one' enemy.

I dont use alts precisely because i was slandered as an alt user. You'll never be able to accept a narrative to the contrary, so ya'll are just gonna get more and more detached and combative with invisable ghosts.

I even told you guys my real name... Lmao.
reply
So who or what is real journalism?
reply
American journalism treats politics like a footgame.

It's systemic down to the personality characteristics of the average American citizen, to at least a minimal degree.

My suspicion is that America is falling apart because the death toll in the middle east has (by some estimates) surpassed the death toll of jewish holocaust.

It's a legitamite question to ask if the entire country's media, from coast to coast, is just a giant profit obsessed distraction with zero integrity.

At least Trump is doing everything in the open, despite media claims that everything is a shadowy Russian conspiracy. (Yes, he was friendly with Putin. Theres no conspiracy.)

"Which side is correct?" is ironically the mentality that's causing these problems.

I find it particularly annoying, since one my favorite things is WW2 history.

That's how i know most of the coverage as of late has been almost entirely emotion-jerking garbage designed to stave off further job loses in MSM offices.

Remember, i have no life, so i have time to look around.

I wouldnt take such an authoritarian stance if there werent so many radicals repeating verifably false nonsense.
reply
I dont watch CNN, FOX, MSNBC and the like. Canadian journalism , being CTV, Global or CBC dont really fall into that same class, as they report and not give opinions. The last bastion of true journalism in my thoughts.
reply
Yeah, im Canadian, and CTV radio, just a few hours ago, was advertising 'the first call for Trump's impeachment'.

First of all, thats bullshit journalism just like the Clinton impeachment bullshit was a cover for the serbian bombing campaign (1998?).

Second... Notable people with power have been calling for Trump's impeachment zince day one.

I'm in Ontario, and the liberals are as uncontested as Republicans in the deep south.

Compelled speech isnt a joke. The name 'Liberal' is a false statement for our Liberals. The NDP would be a better alternative. /end pissed rant/

There's no MSM conspiracy. All i'm suggesting is that they prioritize their rapidly vanishing jobs over their journalistic integrity.

You could reason that theyre being pressured... But it's not even nessisary to conclude that.
reply
That's CBC radio, another government funded org. As far as NDP goes, I was living in Manitoba for all 19 years of their reign, they raised ou PST (illegaly) two years ago for "infrustructure", then, once enacted, they cut infrustucture spending by 300 million. And after all their constuction and bullshit in Mb, sorry but not a fan of NDP. All other provinces got rid of NDP, then Alberta votes NDP, oil and economy goes for shit. Now if**kinronically, I make the move to BC, three weeks now, BOOM!! Nf**kinDP government. I cant win. Dont get me started on the Harper regime. I may not like Trudeau alot, but, the legalisation and taxing of marijuana is gonna be this countries life line. And if we go to war with Trumps US over NAFTA, pot will save us. Some may not like it, but its true. And as far as MSM, stop watching it man, you're Canadian, it's not worth it. Have a poutine, I'm too scared to try a BC poutine.
reply
At the provincial level, i was connected with the libertarians and conservatives until the place was engulfed with Candidate Leitch's anti-muslim dog whistling.

The provincial conservatives for Alberta had to be ejected for the simple reason that they'd been in continuous control of the province since... The 50's, if i remember the wiki graph correctly.

B.C. just swerved far enough left to force Trudeau to block an oil pipeline. *cringe*

Apparently (general stats) Muslim immigrants are liberal voters (88% liberal vs 2% conservative)... But the first generation of their kids are apparently essentially religious right wingers, lol. (So they'll enventually start shifting their voting patterns more towards the conservative spectrum once that cultural is capable of socially meshing with traditional rural voters)

I assume left leaning asian immigrant voters in B.C. will start to question the state media once they see their property taxes.

*shrug*

*mumble* Trudeau's prolly gonna win in a landslide, next election *helpless shrug*

My analysis of his pole numbers suggests that the hardest attack leveled against him by a conservative talking point only dropped his numbers by 2-3% for about 2-3 days before he bounced right back.

While it's true that he'll likely sink himself in the end, he's keeping things basic on the fiscal front, so it'll be nearly impossible to unseat him unless he appropriates tax dollars to buy a yacht.

Lol.
reply
The MSM proclaimed themselves to be the president's polical enemies. Trump pulled the lid off the military industrial complex. It's all in the open. This blame game could go on for decades... As long as it gets ratings.
Show More Comments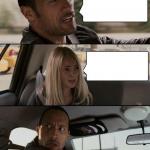 IMAGE DESCRIPTION:
THE MEDIA SAYS TRUMP IS MAD BECAUSE OF HIS STRAIGHT UP VIEWS. HE SEES IT HOW IT IS WITHOUT SUGAR COATING IT, WHAT DO YOU THINK? I THINK WE ARE WITNESSING THE DEATH OF PROFESSIONAL JOURNALISM.
hotkeys: D = random, W = upvote, S = downvote, A = back