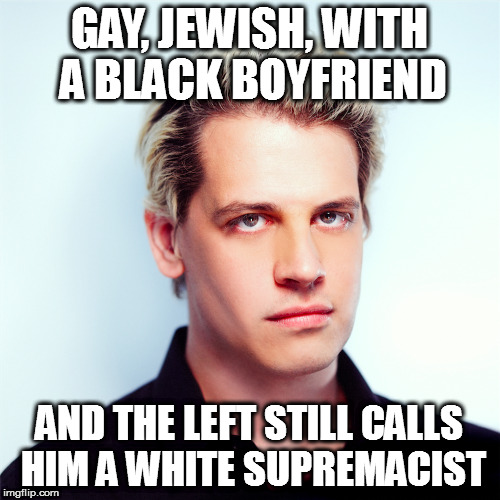 reply
im jewish and i get called gay because i always hang out with the gays at lunch. why does it matter anyway? a person is a person no matter what.
reply
So, if he were a pedophile, would you still consider him "just a person"?
reply
yes. no matter what he is a person.
reply
At least you're consistent. I will give that to you. However, you need to recognize that not all of your peers hold these feelings. They say one thing on the surface, while totally ignoring what they say when the individual crosses over into this area. They claim "love is love" but that is until it crosses over into an area in which they disagree then they begin tacking all these conditions onto the saying, but you're not allowed to up front.
reply
thank you. I was taught that my opinion matters and I should stop being so shy. I am sorry if you thought I was being self-centered. I'm sure that everyone has different opinions on the situation and they should express them. it annoys me that people start fights because of someones opinion. the internet should be annomous and safe for people to share their opinions.
reply
[deleted]
Say what you want about the validity of those claims, but you can't change the fact that he's okay with letting child molesters off the hook.
reply
He never said he was ok with it. And even if he was..

1) Letting them off of the hook? You mean like Hillary did? She even joked and laughed about it, later.
2) I don't ever remember Obama opposing it, so that must mean he supports it. And Obama even went as far as attempting to put grown men and little girls in the same bathroom.
3) One thing that the gay community has taught us is that either you support something, or you're still in the closet. Which is it? Do you support pedophilia, or are you still in the closet?
4) Isn't the mantra of the left "love is love"? Is love love, or isn't it?
5) Who are you to judge another's culture?

On this issue, those on the left have no room to criticize.
reply
He is catholic not jewish
reply
Actually, he has Jewish ancestry which makes him Jewish.
Show More Comments
IMAGE DESCRIPTION:
GAY, JEWISH, WITH A BLACK BOYFRIEND; AND THE LEFT STILL CALLS HIM A WHITE SUPREMACIST
hotkeys: D = random, W = upvote, S = downvote, A = back