Psst I'll let you in on a secret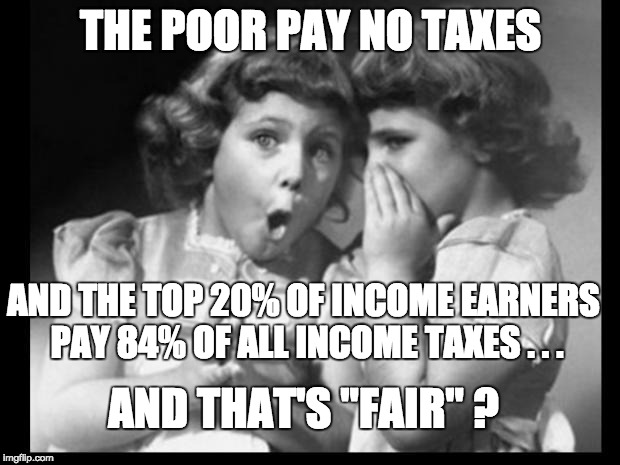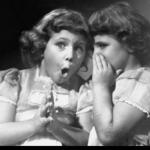 reply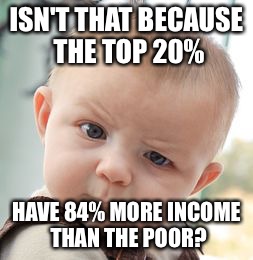 Just kidding. But when people talk about taxes and percentages it can be twisted to support whatever claim they're trying to support.
reply
So where does it end? How much of all taxes collected should the top 20% pay?
Just remember, the average income in the US that was in the top 10% in 2012 was about $150,000. FAR less than most people believe. That amount is great in Jackson, Mississippi, but in many cities, it's a standard middle class income and in places like San Francisco or New York it's lower middle class.

We need either a flat tax or a Fair Tax (consumption tax). But those two options will NEVER be passed in Congress.
reply
Agreed. A flat tax is the way to go but the government won't want to lose their ability to influence behaviors via tax breaks. Plus, there is a huge industry built around our overly complicated tax code that would be lost.

The government needs to stop trying to redistribute wealth and stick to enabling people to prosper on their own -- without theft, deceit, extortion, etc. of course. States will need to deal with their own cost of living issues. But if the Feds have a flat tax, the states will need to figure out how to keep people and businesses from going to other states where their money is worth something.
reply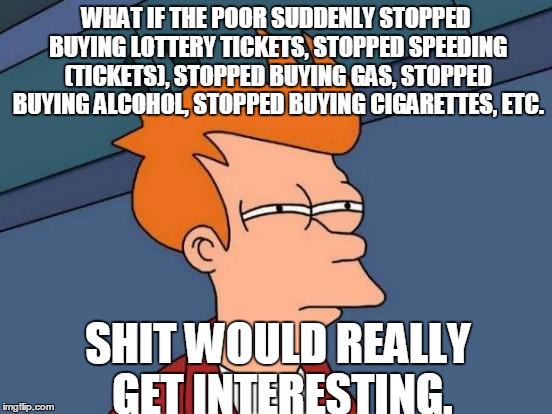 The poor still pay taxes, they're just backdoor taxes, but I know what you mean.It's not fair. There should be a flat tax, and the government should be able to balance off that, and if they can't balance, then it's their fault. That's how the rest of us have to do it.

That'd be like if we got to decide how to pay for goods from businesses based off of how big of a company they are, rofl. YEAH RIGHT! So mom and pop shops, everything would cost a fortune, and bigbox stores everything would basically be free.

Damn people, think! :/
reply
No, it's a lie. A bullshit lie and even your own candidate has never made that Bullshit claim. Through loopholes and by buying candidates (every single congressmen), it has been proven that the filthy rich have been getting away with not only not paying their share but with paying nothing. Are you talking about the changes proposed by Hillary in the debate? Do you make over $250,000 a year Bob Parker? You do? and you have time to meme on here? wow so impressed! or you are delusional.
reply
Nice. You must be clairvoyant. Actually you're just a dumbass.
You see, I don't have to agree with everything "my" candidate does or says, unlike the minion lemmings of the Left.
And if you were smart enough to do the tiniest bit of research rather than relying on your va**na to make your decisions, you'd be able to get your emotions under control and find out that my numbers are accurate.
reply
Wow nice, you go right for the va**na! I know you ignore everything that does not come out of your own mouth. You know that one that is tucked right there behind your great big balls. However, if you ever read anything that I've written you would know that I don't agree blindly with one side or the other but if I see b******* I'll call it. What is clear to me about you though is that even if you don't agree with everything your Republican candidate says, you still behave on here just like him. I bet you look just like him too.
reply
It's not bullshit you dumbass, I just showed you a link.
reply
Hey dumbass: Bob Parker is right. It takes one google search.

https://www.google.com/amp/www.wsj.com/amp/articles/top-20-of-earners-pay-84-of-income-tax-1428674384?client=safari
reply
They start the top twenty percent of income at 134,000 a year, I'm shocked that the top 20% is actually that low, that's sad. I'm really sick of you jerks calling me names & acting sexist. If you want me to watch something ask. If you think I'm ill informed and you have a reliable source then I'll look into it.
reply
Nothing I've done is "sexist." Get the f**k over yourself and and your petty victim complex. Also, you didn't refute any of my claims.
reply
I have no complex, both of you are unbearable assholes. You know damn well that I am referring to Bob Parker's va**na comment as sexist, and both of you with calling me a dumb-ass, neither of you can carry on an intelligent conversation, all you do is fling insults and make insinuations. Therefore you are not worth my time or respect.
reply
Hmm. Okay. So is the statement "thinking with your dick" now sexist? Have you ever used it? Please, do continue your little lecture.
reply
That has no relevance. He blue made his replies because you commented first
Show More Comments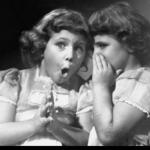 IMAGE DESCRIPTION:
THE POOR PAY NO TAXES; AND THE TOP 20% OF INCOME EARNERS PAY 84% OF ALL INCOME TAXES . . . AND THAT'S "FAIR" ?
hotkeys: D = random, W = upvote, S = downvote, A = back