Well That Escalated Quickly Part 3

Nice! LOL I love it! Now to spread it around!!
[deleted]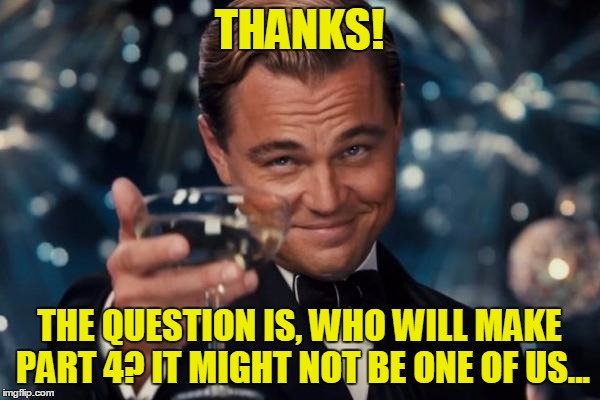 It's not featured yet though, should be featured in the next hour maybe.
I'll wait for it to feature before I share, just let me know! I love the part about you not being a girl :-)
[deleted]
I just noticed this about 2 weeks ago:

On the 57th minute of every hour:

*Memes get featured
*Memes on the front page change
*Points on the 7-day leaderboard change
I knew it was hourly but didn't realize it was down to the minute. LOL you may be an addict!!
[deleted]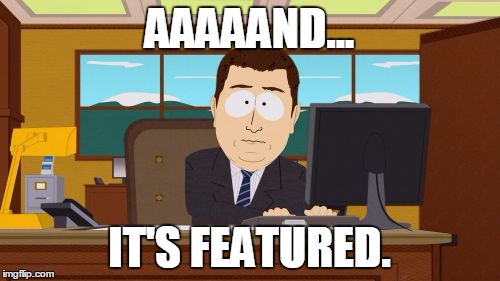 [deleted]
Here's Part 4: https://imgflip.com/i/14ry54
[deleted]
It's crazy to do this too.
You forgot the guy on the left.
put this in part 4 XD the template is 'A vs P vs CH.'
We should have a long meme weekend! LOL I'm going through your memes today hitting the ones I've missed. I'll be back shortly to finish.
[deleted]
I forgot about this, I always made these long ones, but I don't anymore, besides that one I reposted a few days ago. They're so long, I have to make most of them in Paint, because there's too much text boxes to be dragging and trying to figure of which is which lol. That'd be a good idea. I think I have the record, 83 images, I deleted it, but the one I reposted has 78.
ERMAFERKINGERD!!! ima have to come back to this later xD i was just gonna pop on for a minute
Show More Comments
EXTRA IMAGES ADDED: 22
Leonardo Dicaprio Cheers
Be Like Bill
Marvel Civil War
Scumbag Steve
I Should Buy A Boat Cat
Overly Attached Girlfriend
You The Real MVP
Confused Gandalf
Liam Neeson Taken
Archer
Ryan Gosling
Socially Awesome Awkward Penguin
See Nobody Cares
Imagination Spongebob
Spiderman Computer Desk
Pepperidge Farm Remembers
Buddy Christ
Leonardo Dicaprio Wolf Of Wall Street
Jackie Chan WTF
Sudden Clarity Clarence
Obi Wan Kenobi
Peter Griffin News
Blank Yellow Sign
IMAGE DESCRIPTION:
CHEERS TO ME, FOR CONTINUING LYNCH'S "USING ALL THE TEMPLATES". THIS IS BILL, HE WANTS YOU TO USE THIS TEMPLATE. LYNCH1979; MEMESTERMEMESTERSON; WALKS INTO ROOM WHILE MEMESTER MAKES LONG MEME, UNPLUGS HIS COMPUTER. I SHOULD MAKE MEMESTER USE THIS TEMPLATE. YOU WANT TO USE ALL THE TEMPLATES? WHY NOT JUST ME? THIS TEMPLATE IS THE REAL MVP! I'M CONFUSED…; ARE YOU DOING ALL 1,000 TEMPLATES? OR JUST A FEW? IF YOU USE THIS TEMPLATE, I WILL FIND YOU, AND BE YOUR FRIEND! DO YOU WANT TO THIS TEMPLATE? WELL TOO BAD, YOU CAN'T USE IT! WAIT…; HEY GIRL, YOU WANNA USE THIS TEMP- OH! OH MY GOD! I'M SORRY!! I THOUGHT YOU WERE LYNCH!!! SORRY, MEMESTER! TRIES TO MAKE MEMESTER USE THIS TEMPLATE…; THAT'S ALL I GOT… I DON'T KNOW WHAT DO FOR THIS TEMPLATE…; HEY!!!! THIS GUY IS CONTINUING LYNCH'S "USING ALL THE TEMPLATES"!!! SEE, NOW EVERYBODY HATES YOU, COPIER. IF YOU WANT TO USE ALL THE TEMPLATES, YOU JUST NEED TO USE YOUR IMAGINATION! ALL THE SUPERHEROES ARE FIGHTING CRIME, AND I'M JUST SITTING HERE MAKING THE LONGEST MEME ON IMGFLIP. DO YOU REMEMBER THE TIME YOU STARTED READING THIS MEME? PEPPRIDGE FARM REMEMBERS. TAKE THIS TEMPLATE AND SHOVE IT IN YOUR MEME! SO JESUS JUST SHOVED HIS TEMPLATE IN YOUR MEME? YEAH RIGHT…; WTF, YOU AND LYNCH WANT TO USE ALL THE TEMPLATES??!! MEMESTER ISN'T CONTINUING LYNCH, HE'S COPYING HER! NOT READING THIS MEME, NOW THAT'S SOMETHING I HAVEN'T SEEN IN A LONG TIME. YOU KNOW WHAT REALLY GRINDS MY GEARS? THE FACT THAT THIS IS THE END OF PART 3. PART 4 COMING SOON!
hotkeys: D = random, W = upvote, S = downvote, A = back