156 seconds? Please. Trying being forced into 120 minutes between comments because of bullies.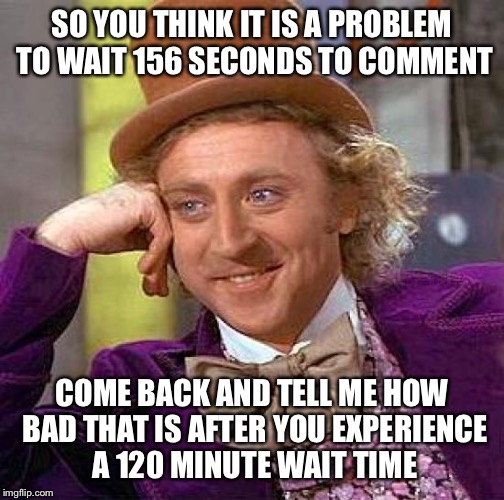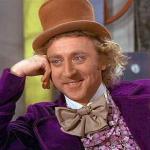 I didn't even think that was possible! The highest I ever got was 170 seconds
[deleted]
Back when people were spamming the downvote button to attack people with different opinions, it happened. https://imgflip.com/i/11thxu
[deleted]
Foreal? That would drive users away. Contact the website because that sounds like a site flaw.
[deleted]
Haven't experienced it since the removal of the downvote counter. But it was actually part of the website itself. They was, and most likely still are, using some algorithm to determine how often people can comment based on votes. It determines whether or not you can use meme comments ir not. With a lot of downvotes, it actually decreases how often you can comment. I ended up get that message alot because of Tetsuoswrath and the group of people he recruited to attack me.
Tetsuowrath hhhmmm? That loser is so f**kin fake. I called him out recently after he was praised by invincta and was ignored. I respect invicta, don't get me wrong, but gets is a lying asshole. The problem I have is that the last time I saw you getting bashed over simply pointing things out, you ignored me. You are ignoring people trying to help you. 2. Your username kicks ass, but when u told spurs he wasn't a "man" for sticking up, wtf is your def of a "man." Sorry to be technical, but a man is no more tough than a woman and that kind of logic can be used as a bullying logic that men are stronger than woman therefore contradicting your username. Please hear me out and respond. I want to help. I was #37 at some point and one thing to point out is that Spurs used my template and got to the front page, but its not really used right in some ways. That right there is big support to your argument. Please respond soon cause I want to help your cause of anti bullying.
[deleted]
I must not have seen your comment before. When I called Spurs out for not being a man, I am talking about not willing to face me off this site where our real identities would be exposed. People like Spurs want to claim I am a keyboard warrior, but yet I am the only one willing to put my identity out there.
Show More Comments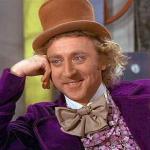 IMAGE DESCRIPTION:
SO YOU THINK IT IS A PROBLEM TO WAIT 156 SECONDS TO COMMENT; COME BACK AND TELL ME HOW BAD THAT IS AFTER YOU EXPERIENCE A 120 MINUTE WAIT TIME
hotkeys: D = random, W = upvote, S = downvote, A = back