The thing trump & Bernie have in common is that people hate the establishment...and especially Republican policies. That's just my analysis, whether I like it or not. There is no way this country isn't going farther to the left in coming years.
[deleted]
It's been my experience that people are conservative and capitalistic in their own personal lives but they want government to be liberal and progressive and stick it to the people they don't like (such as the rich, politicians, and corporations -- which make up their own 401k).
As my wife says, " people want the services but don't want to pay for them." There are big disconnects in thinking. Our investments do indeed come from corporations. It's too complicated to deal with for most people. Lots of young people are going far left, and the ones I know are very enthused & they're going to vote. Personally I liked Kasich the most.
in my experience, there are two varieties of this sort of liberal: the ones who see the status quo, and who are willing to risk electing someone like Bernie in order to get something done, and then there are the lazy assholes that give the entire party a bad name by begging for free stuff.
[deleted]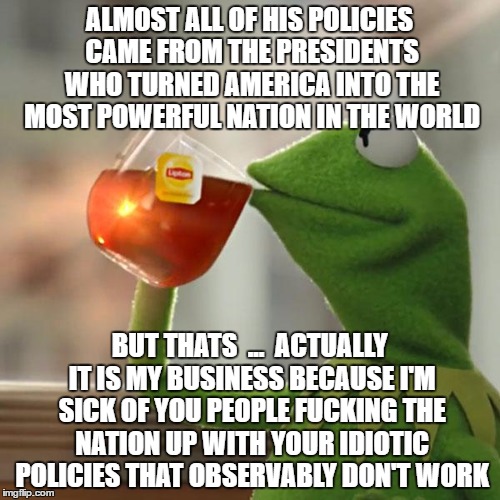 Show More Comments
IMAGE DESCRIPTION:
YES, MY INITIALS ARE B.S. IRONICALLY, THAT'S ALSO WHAT MY IDEAS ARE FULL OF.
hotkeys: D = random, W = upvote, S = downvote, A = back