[deleted]
Good one. "Pray for peace, prepare for war." He also said "avoid foreign entanglements". It would be great if we could still do that, but I think it's too late for that now.
[deleted]
My grandfather always said "you mow our yard...dont worry bout the neighbours". Usually when i said the neighbours havn't mown their lawn by sunday. I had 4 acres to mow and take 2 days. And our grass was always greener.
[deleted]
Exactly, I'm just saying that it was a lot easier in Washington's time to avoid foreign entanglements due to our geography and the technology of the time. It would take months for a foreign threat to come to our shores. Now, it takes minutes. Plus, the whole "global economy" means that we've got interests all over the world that we have to protect (follow the money).
[deleted]
They were at war with Britain at the time, so not too sure how easy it was in those days.
[deleted]
True...but, the "foreign entanglements" quote came from his farewell address, so the Revolutionary War was pretty much over. I'm sure that they were still at threat. I think that avoiding foreign entanglements was the rainbows & unicorns Utopian dream at the time. Even then they couldn't totally avoid interacting with other countries.
[deleted]
There couldn't be more truer words spoken. Imagine, we went from a President such as George Washington to Barack Obama.
To treasonous people like Hillary running campaigns, instead of in prison. Not to mention a 1%er running as president, and being taken serious as a candidate that the people can trust. How the American people have fallen under the spell of disillusionment.......
Show More Comments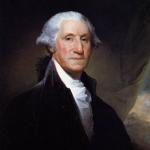 IMAGE DESCRIPTION:
To be prepared for war is one of the most effective means of preserving peace -George Washington-
hotkeys: D = random, W = upvote, S = downvote, A = back