Pope Francis why not both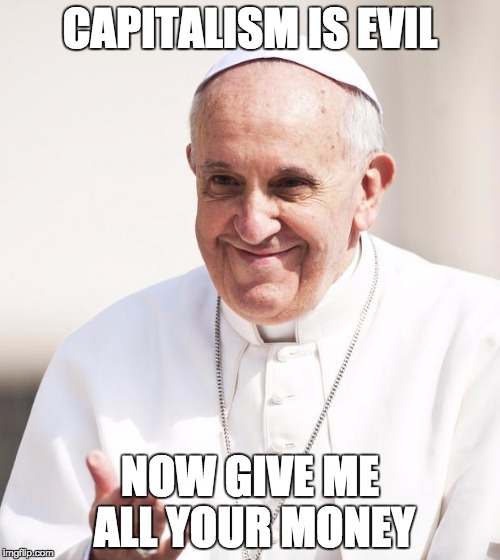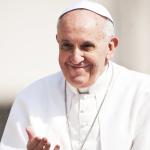 reply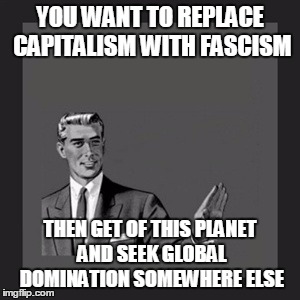 reply
And then there's this: https://ca.news.yahoo.com/pope-visit-nears-u-catholic-church-faces-financial-054152777.html
reply
And this: http://www.bloomberg.com/news/articles/2015-09-09/pope-who-calls-money-devil-s-dung-to-rattle-capitalism-s-den
reply
easy: http://www.theatlantic.com/international/archive/2013/11/the-vaticans-journey-from-anti-communism-to-anti-capitalism/281874/
reply
[deleted]
Nowhere in that essay, which distorts the Pope's remarks, does it quite Francis as saying "capitalism is evil." Francis routinely points out the problems that occur when we give too much power to the wealth that capitalism helps produce, and in this he is no different from his predecessors, one of whom cut his teeth running underground churches under communist oppression. The flaws of capitalism are pretty clear to anyone who doesn't idolize the system - and the Church never has. Rather, she recognizes that any approach to life that does not put Jesus at the center will ultimately bear poisonous fruit. The goods of Capitalism are subordinate to Jesus, the ultimate good.
Capitalism is a tool and like any tool its use can have evil results. Some of these results have been the treatment of people as disposable means rather than uniquely valuable ends. You can admire the material benefits of capitalism while remaining uneasy about these clear problems.
reply
Ahh but he still wants the results from capitalists. Think Franky would turn down a billion dollars from the EVIL Koch brothers?
http://www.ibtimes.com/pope-francis-five-most-radical-statements-capitalism-poverty-1486496

You just can't get around the fact that "fettered" capitalism isn't real capitalism. The "substitute" (aka vicar) of Christ said that capitalism is "unjust at its root."

The man (he isn't a substitute for Christ) even tweeted "inequality is the root of social evil."

No way around it. Ol' Papa ain't for the common man coming up with an idea, making a billion off of it, and NOT giving his money to the causes approved by the Vatican.
reply
[deleted]
The Church has never been for that, at least as far as I understand it. She has always taught that what you possess beyond that which meets the demands of "necessity and propriety" by right belongs to the poor. (See for example Leo XIII.) This concept of justice is almost agnostic to political and economic systems; a free-market system where the people by and large lived simply in order to provide for the poor would indeed be preferred to one where equality is enforced from above.
Before you can judge this pope you had best familiarize yourself with the 2,000 years of teaching that he represents. You won't find much daylight between them and Francis.
reply
This ain't my first rodeo. I know full well what this "church" stands for. It stands for the doctrines of men, politics, and power. Always has.
reply
[deleted]
Ah, so as Ronald Reagan much have said, the trouble isn't so much that you're ignorant, it's just that you know so many things that aren't so.
reply
And you know my background SO well. Ad hominem attacks are the crumbling acropolis of the feeble-minded who have no argument otherwise.
reply
[deleted]
You told me all you needed to for what I said. If I told you that we never landed on the moon, you wouldn't need to hear my specific errors to know that I was in error. Likewise, it was obvious from your remarks that you have been fed misinformation from someone who is either a liar or, like you, a liar's victim. I can't correct your error without knowing its details, and I am not inclined to in this medium, but I have all I need to say you are in error.
reply
AND It didn't "leave me immune from error" it OPENED MY EYES.
reply
LOL!!!!! I left the priesthood in 1997. You're clueless.
[deleted]
If being a priest made you immune from error, that would be relevant. As it is, I'm sorry your formation was so bad as to leave you susceptible to whatever falsehoods you eventually embraced. That doesn't make you right, it's just a testimony to the state of things.
reply
No that's just eating its fruit.
reply
[deleted]
Money is not a distinct feature of capitalism; there are many economic systems in the world.
reply
Can you name ONE capitalistic country without money?
Show More Comments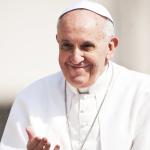 IMAGE DESCRIPTION:
CAPITALISM IS EVIL NOW GIVE ME ALL YOUR MONEY
hotkeys: D = random, W = upvote, S = downvote, A = back