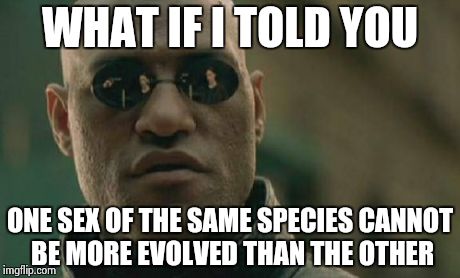 you'd be misinformed. lol this is scientific baby but it's a romantic notion so i'm gonna go ahead and upvote ya :)
It's simple biology, both sexes share nearly identical genetic information, so it's impossible for one to be more evolved. And even if one was, as soon as they reproduced, the differences would be passed onto the child, who might be of the other sex.
men have less genetic information due to their lower case v (commony known a Y) chromosome, and it is actually been proven to have been continually shrinking for as long as we have known...which is indicative of it's being put out to "biolgical" pasture, if you will. mother nature it seems, has deemed men obsolete and has been slowly nudging the male gender out of existence...i believe we are on course to becoming a matriarchal species...that is if men don't annihilate the entire planet first, which i fear will likely be the case...
Does that mean well endowed females are also less evolved?
note the quotes. it's sarcasm. men obsess incessantly over p**is size, which is arbitrary. the type of men in particular who are given to such preoccupations tend to be arrogant sexist chauvinists of dubious intellect.
oh, its good to see that a group of people who always say that there group supports equality regardless of gender is talking about how one gender is superior
these are merely my observations as a male. don't attribute them to anything else
[deleted]
That means my ex isn't a girl. She was very Intellectually, Emotionally and Existentially weak.
ain't no shame if he was a man my friend lol i get ya
Show More Comments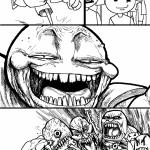 IMAGE DESCRIPTION:
HEY "WELL ENDOWED" MANLY MEN WOMEN ARE GENETICALLY, INTELLECTUALLY, EMOTIONALLY, & EXISTENTIALLY MORE EVOLVED
hotkeys: D = random, W = upvote, S = downvote, A = back