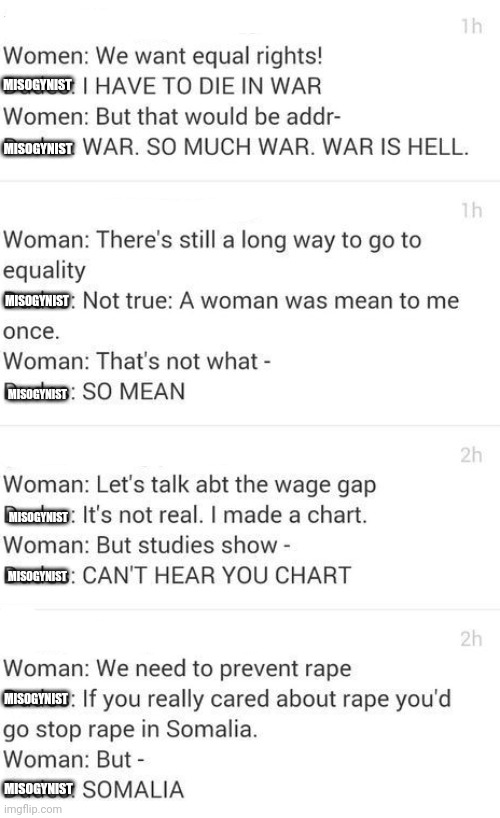 I'm just confused how a fake conversation with a mysoginist proves anything (I'm assuming that's the point of this post)
[deleted]
Hello! Have you heard of HUMOR? SARCASM, maybe?
How is joking about the mannerisms (for lack of a better word) of a mysoginist humor
[deleted]
Basically it sums up what most misogynists say when a woman says something about feminism and how misogynists just ignore every single opinion that doesn't serve theirs by derailing the conversation to make feminists seem like the bad guys.
So making a joke about that is funny? I think most people would say it's not a very fitting subject for satire
[deleted]
You do know that misogynists make jokes using harmful stereotypes of women almost all the time, right? Like the joke about how women can't drive? Have you ever complained about that?

The thing is, it's ok to joke and make satires about the behavior of just generally stupid or asshole people for their behavior as a person. Because misogynists are assholes.
I thought the joke was funny, I think the other guy is offended because he's a mysoginist.
wage gap is real, and it exists cause women generally don't want the stress and whatever that comes with the higher paying jobs. Nothing wrong with that.
The woman is Biden and the other is Harris
Show More Comments
IMAGE DESCRIPTION:
MISOGYNIST; MISOGYNIST; MISOGYNIST; MISOGYNIST; MISOGYNIST; MISOGYNIST; MISOGYNIST; MISOGYNIST
hotkeys: D = random, W = upvote, S = downvote, A = back