I'm so sick of people treating me like this.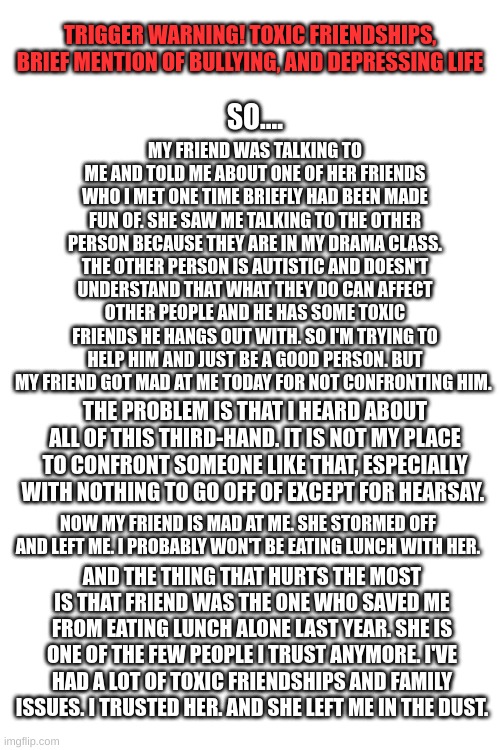 Ofc
Lmk if I can help you with anything
[deleted]
This reminds me of what my friend went through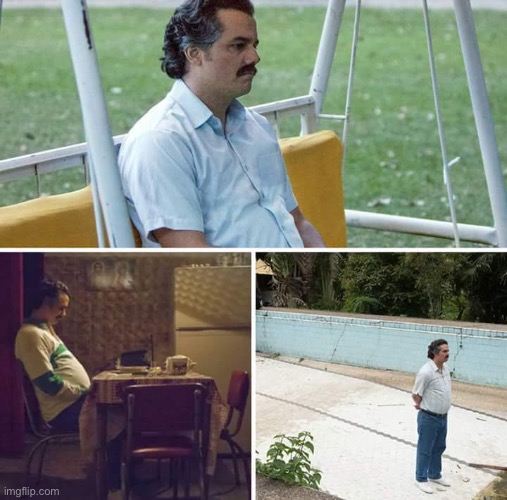 Bro i can't really follow what you said but i'm sorry to hear that happened. I hope you can mend the break with her.😟💙
Show More Comments
IMAGE DESCRIPTION:
TRIGGER WARNING! TOXIC FRIENDSHIPS, BRIEF MENTION OF BULLYING, AND DEPRESSING LIFE; MY FRIEND WAS TALKING TO ME AND TOLD ME ABOUT ONE OF HER FRIENDS WHO I MET ONE TIME BRIEFLY HAD BEEN MADE FUN OF. SHE SAW ME TALKING TO THE OTHER PERSON BECAUSE THEY ARE IN MY DRAMA CLASS. THE OTHER PERSON IS AUTISTIC AND DOESN'T UNDERSTAND THAT WHAT THEY DO CAN AFFECT OTHER PEOPLE AND HE HAS SOME TOXIC FRIENDS HE HANGS OUT WITH. SO I'M TRYING TO HELP HIM AND JUST BE A GOOD PERSON. BUT MY FRIEND GOT MAD AT ME TODAY FOR NOT CONFRONTING HIM. SO.... THE PROBLEM IS THAT I HEARD ABOUT ALL OF THIS THIRD-HAND. IT IS NOT MY PLACE TO CONFRONT SOMEONE LIKE THAT, ESPECIALLY WITH NOTHING TO GO OFF OF EXCEPT FOR HEARSAY. NOW MY FRIEND IS MAD AT ME. SHE STORMED OFF AND LEFT ME. I PROBABLY WON'T BE EATING LUNCH WITH HER. AND THE THING THAT HURTS THE MOST IS THAT MY FRIEND WAS THE ONE WHO SAVED ME FROM EATING LUNCH ALONE LAST YEAR. SHE IS ONE OF THE FEW PEOPLE I TRUST ANYMORE. I'VE HAD A LOT OF TOXIC FRIENDSHIPS AND FAMILY ISSUES. I TRUSTED HER. AND SHE LEFT ME IN THE DUST.
hotkeys: D = random, W = upvote, S = downvote, A = back