Furries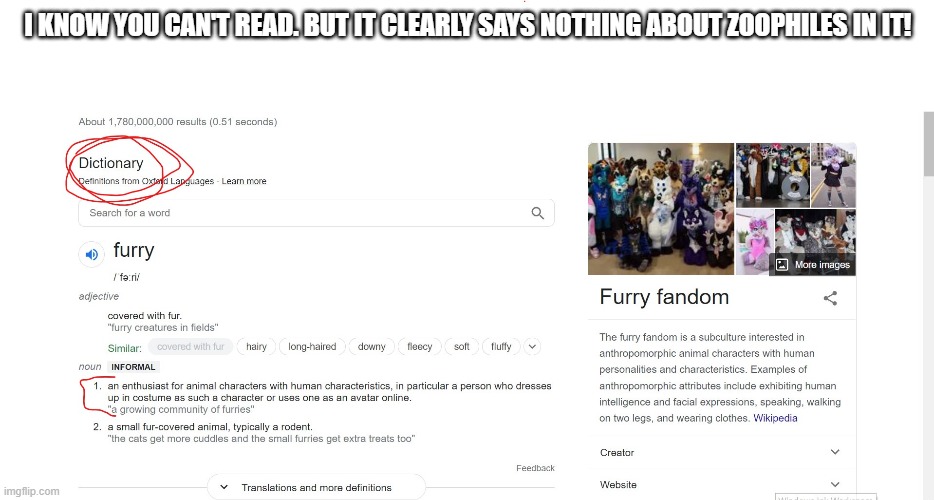 Finally. I just got done arguing with someone about the fact that furries AREN'T ZOOPHILES and their response was literally 'Oh I GoOgLeD iT It SaId ThAt FuRrIeS ArE ZoOpHiLeS'
Hey wait you were on that post.
Finally, someone who understands, if I could give more than one upvote, I totally would
[deleted]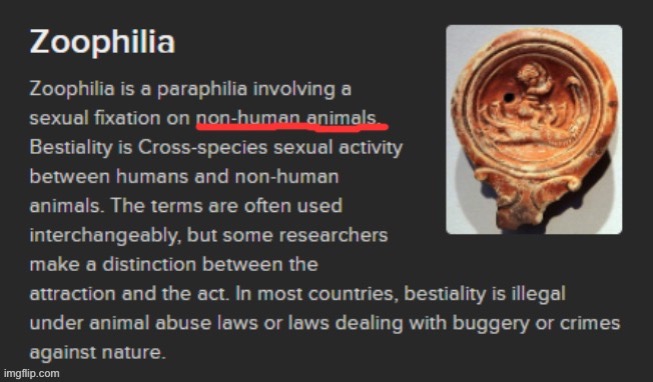 NON-HUMAN animals dumbass
[deleted]
Yeah, they're not human. Idiot. That's what they want to be.
But yes also CROSS-SPECIES SEXUAL ACTIVITY
God DAMMIT learn to read
[deleted]
A lot of furries are zoophiles, so shut up.
[deleted]
i can read the image but this is what happened
dumbass.
1. they didn't even say furry friend
2. What the f**k
3. stop hating on people because 'Oh I LiTeRaLlY GoOgLeD It FuRrIeS ArE ZoOpHiLeS
4. send me proof that furries are zoophiles. I'll wait
chill fwen he didn't mean it
ok fine. Just next time he hates on furries without any proof I will KICK HIS ASS
Show More Comments
IMAGE DESCRIPTION:
I KNOW YOU CAN'T READ. BUT IT CLEARLY SAYS NOTHING ABOUT ZOOPHILES IN IT!
hotkeys: D = random, W = upvote, S = downvote, A = back