Dr. Strange is a mean dude.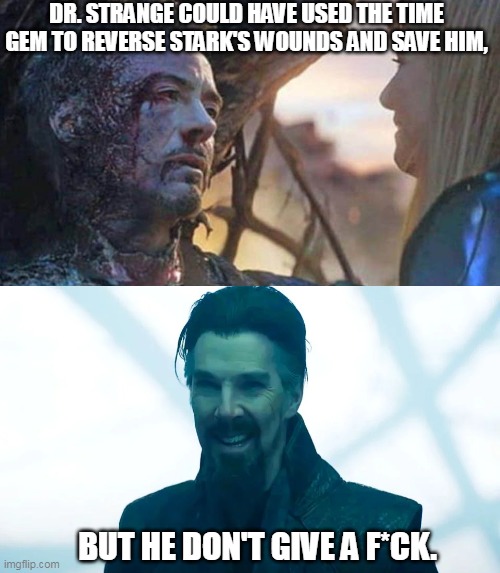 Actually, as explained in endgame, if someone messes with how the flow of time goes, then it creates a branch. (I wonder why they can't create multiverses) But, all I know is that he probably isn't allowed to or some sort of chaos will happen
Yeah, it's a pretty confusing thing to think about, because in Doctor Strange I remember him regenerating an apple without messing with the spacetime around it, but then I also remember Thanos resurrecting Vision, which makes me think if he did the same process that Thanos did with Vision and resurrect Stark, the snap of the fingers would likely be undone and Thanos and his entire army would return. So it's a very complicated thing to analyze.
no because iron man/tony used them and dr.strange could not get it in time and even if he did it would reverse everything.
Show More Comments
NSFW
EXTRA IMAGES ADDED: 1
imagem_2021-12-26_020432.png
IMAGE DESCRIPTION:
DR. STRANGE COULD HAVE USED THE TIME GEM TO REVERSE STARK'S WOUNDS AND SAVE HIM, BUT HE DON'T GIVE A F*CK.
hotkeys: D = random, W = upvote, S = downvote, A = back