Let us neuro-divergent trans people identify with what we feel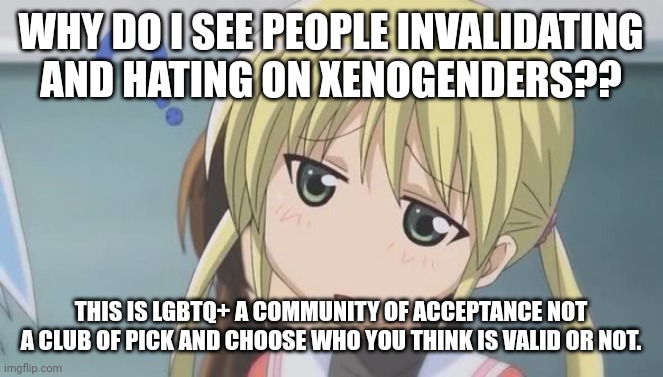 carebeargender
amogusgender
amongdripgender
fnafgender

in the least rude way to put it
please shut up
[deleted]
So, if I invented a new xenogender, say, "carpetfloorfluid" where you are fluid between a carpet and the floor, would that be valid? Because that's exactly what the people who came up with catgender and pupgender did.
[deleted]
Most genders are valid but not "pupgender" and "catgender" because they are fake and 14yo cis white girls just use them as an excuse to act like a cat or dog. They are fake and invalid.
I'm not saying that fake identities made up by neurotypical cishet people are real, but I am really addressing those who say xenogenders as a whole arent valid because of the few mockers
[deleted]
Im saying all xenogenders except for ones made up by nyrotypilcal cishet people are real and valid
Great so we come to an agreement
YEAH I was gonna post about that
Because some of the genders are just plain false
Arent you the modern that was giving me shit for no damn reason months ago
Idk man, I'm a controversial mod.
By controversial you mean you're someone who has openly admit to harassing others in one of your memes but are a mod somehow
No. I'm controversial because I tell you what I think.
Gimmie a link or something
Show More Comments
IMAGE DESCRIPTION:
WHY DO I SEE PEOPLE INVALIDATING AND HATING ON XENOGENDERS?? THIS IS LGBTQ+ A COMMUNITY OF ACCEPTANCE NOT A CLUB OF PICK AND CHOOSE WHO YOU THINK IS VALID OR NOT.
hotkeys: D = random, W = upvote, S = downvote, A = back