Fauci shuts Trump down

3,709 views
•
9 upvotes
•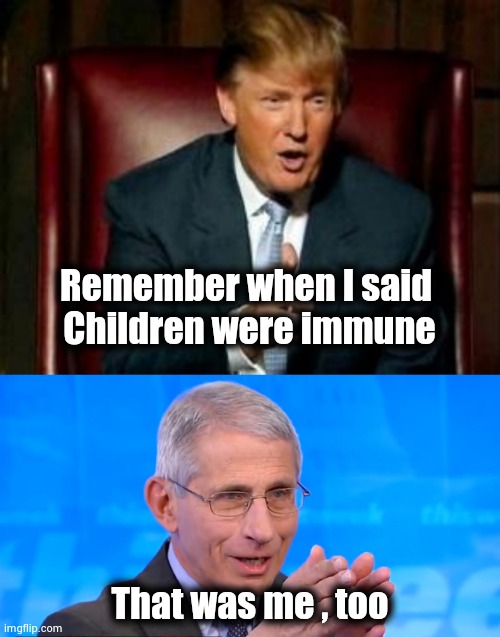 Fauci , knowingly , misled the President , it was part of the plandemic
I was thinking we could create a whole thread like this...
We should call it "Making a mountain out of a molehill"
well, if you had paid attention and kept receipts you would know two things: Trump followed Fauci's recommendations, pretty much to the tee. Fauci stated as much under oath in June of last year. Fauci stated in January of last year that Covid would have no impact on the USA and pushed this narrative for months which is why Trump stated it would disappear.

If you follow the timeline of what happened - Trump and Fauci parted ways at antivirals...
[deleted]
Octavia doesn't pay attention. TDS keeps people immune from facing the facts. It's what also keeps them from acknowledging their Saint Nancy in SF's Chinatown in February 2020, downplaying the virus and inviting Americans to visit.
Show More Comments
EXTRA IMAGES ADDED: 3
donald trump
Dr. Fauci
donald trump
Dr. Anthony fauci
IMAGE DESCRIPTION:
REMEMBER WHEN I SAID YOU COULD GET AIDS MERELY BY TOUCHING SOMEONE? ACTUALLY, THAT WAS ME; HOW ABOUT WHEN I SAID MASKS DON'T WORK AND COVID WOULDN'T HAVE AN IMPACT... YA, THAT WAS ALSO ME
hotkeys: D = random, W = upvote, S = downvote, A = back