Has anyone else had/have bad counselors?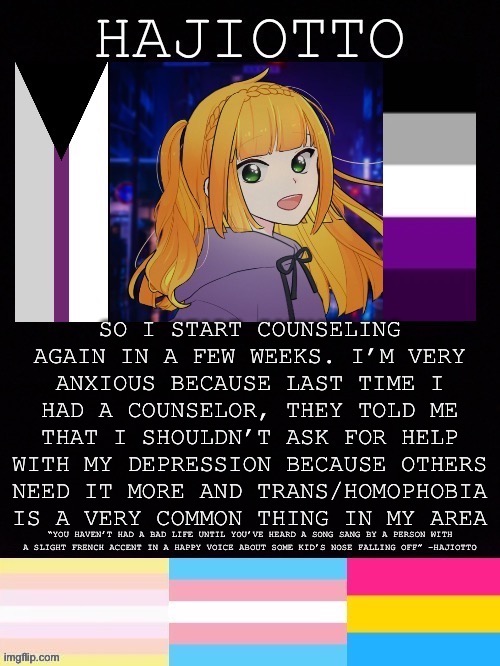 Bullshit. Your last councilor is bullshit.

I've been in that mentality for the longest f**king time and now I have clinical depression that's going untreated and will for a long time. All because I was told to keep it to myself, and I've slowly started developing other problems.

If anybody even dare try to put you into that mentality you tell them to jump off a f**king bridge.
That counselor must suck, not an okay thing to hear- it doesn't matter who the heck you are depression causes horrible things

Also I've had many counselors before and one of them l treated me like trash for being christain ._.
[deleted]
THAT COUNSELOR NEEDS TO BURN IN HELL THAT DAMN JERK
[deleted]
;-; that- yeah what's the point of going to a counsulor if not to talk about your issues? Its fine, and you should talk about it, and if no one else will let you, then you go ahead and talk to us, or anyone here on the stream or anything.
ur counselor can dig a hole and die cause that shit talk,worse than when mydads drunk
Show More Comments
IMAGE DESCRIPTION:
SO I START COUNSELING AGAIN IN A FEW WEEKS. I'M VERY ANXIOUS BECAUSE LAST TIME I HAD A COUNSELOR, THEY TOLD ME THAT I SHOULDN'T ASK FOR HELP WITH MY DEPRESSION BECAUSE OTHERS NEED IT MORE AND TRANS/HOMOPHOBIA IS A VERY COMMON THING IN MY AREA
hotkeys: D = random, W = upvote, S = downvote, A = back