:)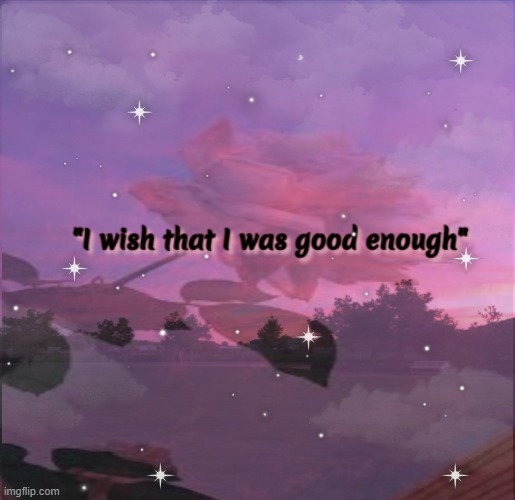 You are more than good enough…
[deleted]
Know that you are good enough, Please don't give up when things are tough 😊
I'm tired of everything to be honest-
The only people who can actually make me feel better is drizzy or winter and neither of them are on-
Even if they were on I probably wouldn't even bother them .-.
Have you ever been so tired that you can't even cry anymore? you just sit there and f**king accept it because you know you're a worthless piece of shit? Then you think getting high, drinking or cutting yourself works, but it just adds to the pain. Like when will it stop you know?
But deep down all you can really say is-
"It is what it is "
[deleted]
You wouldn't be bothering them....they love you
What happened...
How could someone love me when I don't even love myself? They don't love me and I won't believe it- no one has and no one will simple as that-

Life happened nez, and there's nothing we can do about so there's no point in telling you what happened it's done now.
Melody…I love you, so so much, I really do, my love for you is what's keeping me alive, I love you so much, please believe me…
[deleted]
Please tell me...I just want to help ;-;
How are you going to help me nez?
Are you going to go back to the past and fix everything?
No-
So leave me alone please-
[deleted]
Melody...I'm sorry....what happened?
Don't matter.
It is what it is.
well I'm here now, I'm so sorry that I wasn't on…
And you never bother me…;-;…
You're way more than good enough, this world doesn't deserve you
Show More Comments
hotkeys: D = random, W = upvote, S = downvote, A = back